Subway in Tokyo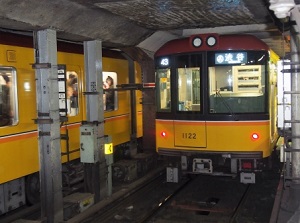 Train of Ginza Line
Subway is very convenient to move around central Tokyo.
It has many lines, and the network is very complex.
I had lived in the Tokyo area for over 20 years, but I was not able to learn the network surely.
But, you have nothing to fear.
You can find the English route map at every station.
And you can reach your destination using the line through or after changing lines one or two times.
Tokyo Metro and Toei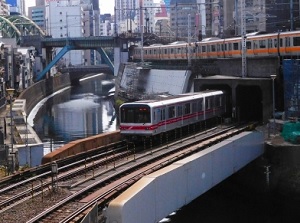 Marunouchi Line under JR Chuo Line at Ochanomizu
Subway in Tokyo has 13 lines.
These lines are operated by two companies.
One is Tokyo Metro.
It has 9 lines.
Another Toei.
It has 4 lines.
Toei is a local public enterprise operated by the Tokyo Metropolitan Government Bureau.
Commonly, both lines are displayed in subway route map.
But when you must change to a line of the other company on the way, you have to buy the ticket connecting the other company's line.
You may be confused a little when you buy the ticket at a subway station.
In addition, these companies of subway are not JR.
Therefore, "Japan Rail Pass" is not available for subway.
Direct connection between subway and other railroads
Most subway lines connect directly to the lines of the other railroad companies at the terminal station.
So most trains run through such stations.
Therefore, the destination of most trains usually shows a station name out of the subway line.
Line color, Line symbol and Station number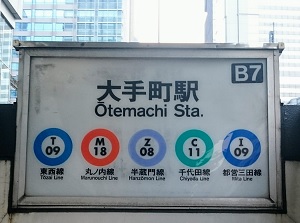 5 lines concentrate at Otemachi
For foreign passengers, each line is assigned with a specific color, and each station is given a specific line symbol (one alphabetic character) and station number.
Of course, it is very good that you can memorize the station name in Japanese.
But when a station name is alphabetized, mostly it is a long word.
Please utilize them.
Tokyo Metro
Ginza Line ●G
Asakusa, Ueno, Nihonbashi, Ginza, Shinbashi, Akasaka-mitsuke, Omote-sando, Shibuya
Marunouchi Line ●M
Ikebukuro, Korakuen, Otemachi, Tokyo (station), Ginza, Akasaka-mitsuke, Shinjuku, Nakano-sakaue, Ogikubo
(Branch line) ●m Nakano-sakaue, Honancho
Hibiya Line ●H
Kita-Senju, Ueno, Akihabara, Ningyocho, Ginza, Hibiya, Roppongi, Ebisu, Naka-Meguro
Tozai Line ●T
Nakano, Takadanobaba, Iidabashi, Otemachi, Nihonbashi, Monzen-nakacho, Urayasu, Nishi-Funabashi
Chiyoda Line ●C
Kita-Ayase, Kita-Senju, Nishi-Nippori, Yushima, Otemachi, Hibiya, Akasaka, Omote-sando, Meiji-Jingu-mae, Yoyogi-uehara
Yurakucho Line ●Y
Wako-shi - Ikebukuro - Iidabashi - Nagatacho - Yurakucho - Tsukishima - Shin-Kiba
Hanzomon Line ●Z
Shibuya, Omote-sando, Akasaka-mitsuke, Otemachi, Suitengu-mae, Oshiage
Nanboku Line ●N
Meguro, Shirokane-Takanawa, Akasaka-mitsuke, iidabashi, Komagome, Akabane-iwabuchi
Fukutoshin Line ●F
Wako-shi, Ikebukuro, Shinjuku-sanchome, Shibuya
Toei
Asakusa Line ●A
Nishi-Magome, Gotanda, Sengakuji, Mita, Higashi-Ginza, Asakusa, Oshiage
Mita Line ●I
Meguro, Mita, Hibiya, Otemachi, Jinbocho, Sugamo, Nishi-Takashimadaira
Shinjuku Line ●S
Shinjuku, Ichigaya, Jinbocho, Higashi-Nihonbashi, Ojima, Motoyawata
Ooedo Line ●E
Hikarigaoka, Tocho-mae, Shinjuku, Aoyama-itchome, Roppongi, Shiodome, Tsukishima, Ryogoku, Ueno-Okachimachi, Iidabashi, Tocho-mae
Other infos of Transportation in central Tokyo