Various transportation
Hato Bus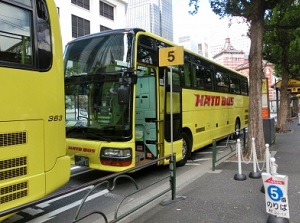 Hato Bus is the regular sightseeing bus in Tokyo.
If you want to tour around Tokyo in a short time, it is the best way.
It provides a lot of various tours, and most of them are one-day or half-day tours.
Some tours visit Yokohama, Hakone, Mt.Fuji, etc.
And it provides the tours with English, Chinese, Korean or Spanish speaking guide.
The fare is also reasonable.
The departure place for foreign tourists is near JR Hamamatsucho station.
Sky Bus / Sky Duck / Sky Hop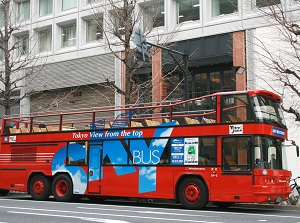 These are the sightseeing tours of Tokyo operated by a bus company.
Sky Bus is a sightseeing tour by the bus of open-top double-decker.
You can see some sightseeing spots on the bus without roof.
It starts from Mitsubishi Building to the west of Tokyo station, and it takes about 50 minutes.
A few tours tours are provided and a tour is operated some times in a day.
Sky Duck is a tour by amphibious bus.
You can tour the spots on the bus running on road and river.
It starts from Tokyo Sky Tree and runs around the road and river near Tokyo Sky Tree.
It takes about 90 minutes.
Sky Hop is like route bus tour by one-day ticket.
A few routes touring sightseeing spots are provided and the buses are operated some times in a day.
A traveller can get off the bus at your favorite stop and get on the next bus after the sightseeing.
The starting point is Mitsubishi Building and you must return there by the bus within the day.
Tokyo Cruise Ship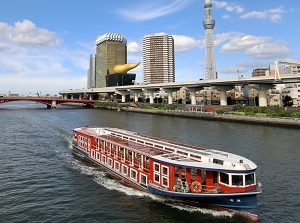 Tokyo Cruise Ship is a shipping company, and operates the pleasure boat on Sumida River and the water-buses around Tokyo Bay waterfront.
Sumida River Line is the pleasure boat from Asakusa to Hamarikyu Gardens and Hinode Pier.
We can enjoy the scenery of Tokyo from Sumida River.
It takes about 35 to 40 minutes.
Additionally, from Hinode Pier, there are some lines to Odaiba and its surrounding area.
Yakatabune (Houseboat)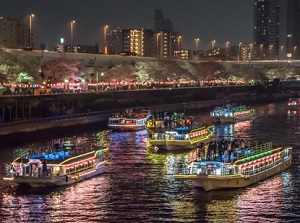 Yakatabune is the houseboat that we hold a party with enjoying the view from the boat.
In Tokyo, over 50 shops join the cooperative association of Yakatabune, and most of them are along Sumida River and around Tokyo Bay.
Each boat can hold 15 to 80 people, and the cabin is like Japanese-style banquet room.
And popular Japanese dishes such as Sashimi, Tempura, Sushi are served in the boat.
A cruise has around 2 hours and 30 minutes, and the boat starts from its shop at lunchtime or suppertime.
Most boats tour around Sumida River, Rainbow Bridge and Odaiba.
Basically, advance reservations in a group are required, and you must pay the fee to the bank account in advance.
The cruise costs about 8,000 - 12,000 yen per person.
Some shops operate the share-board boats.
They can accept the reservation of a small group.
But in that case, the starting days and times are usually limited.
Additionally, a few tours of Hato Bus include the cruise by Yakatabune.
Other infos of Transportation in central Tokyo