Old residences in Yamate district [
山手

]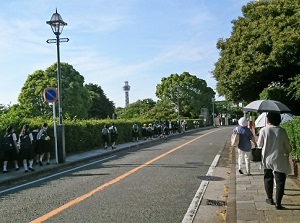 A street in Yamate district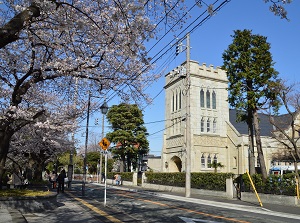 A church in Yamate district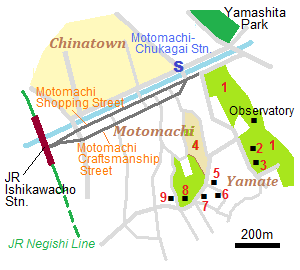 1) Harbor View Park 2) British House
3) Bluff No.111 4) Foreign General Cemetery
5) Yamate Museum 6) Tin Toy Museum
7) Bluff No.234 8) Ehrismann Residence
9) Berrick Hall
Yamate district is located southeast of Motomachi area.
It is a hilly area and there is Harbor View Park in the east part of the district.
After the opening Yokohama port in 1859, the foreign settlement for Western people was built in this area.
This district as foreign settlement finished in 1899.
The district was severely damaged by the Great Kanto Earthquake in 1923, and many foreign people left this district.
Some old Western residences remain, and this district is a high-class residential area even now.
Foreign General Cemetery and some Western residences are the sightseeing spots.
Foreign General Cemetery (
横浜外国人墓地

)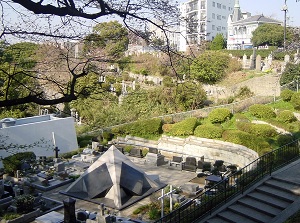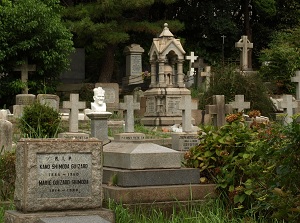 Foreign General Cemetery is the cemetery for foreign residents built in 1861.
About 4,400 foreign people from over 40 countries are buried in this cemetery.
Its total area is about 1.8 hectares.
Yamate gate, which is the main entrance on the east side of the site, is located about 300 meters south of the east end of Motomachi streets and about 200 meters west of Harbor View Park.
In this cemetery, there are not only the tombs of Western people but also the tombs of Islam and Judaism.
It is similar to the museum of the tombs in the world.
Basically it is closed to the public.
But, if you raise funds to sustain this cemetery, you can enter this cemetery.
It is open on Every Saturday, Sunday and the national holiday in Japan from late March to December.
Old Foreign residents
There are some old Western residents to the south of Foreign General Cemetery.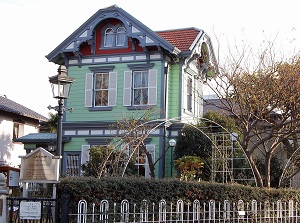 Yamate Museum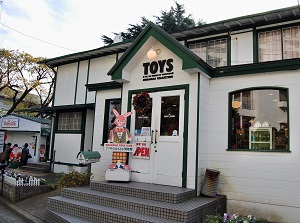 Tin Toy Museum
Yamate Museum (山手資料館) is a museum displaying the materials related to foreign settlement of Yamate and Yokohama.
It is the Western-style wooden residence built by a Japanese carpenters in 1909.
Tin Toy Museum (ブリキのおもちゃ博物館) is a museum of old tin toys, and is located about 100 meters southeast of Yamate Museum.
It is a Japanese collecter's private museum.
About 3,000 tin toys made in Japan from the 1890s to 1960s are exhibited.
The building is also an old Western house.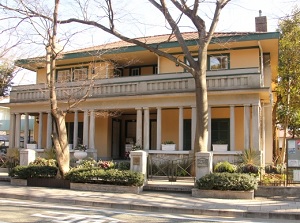 Bluff No.234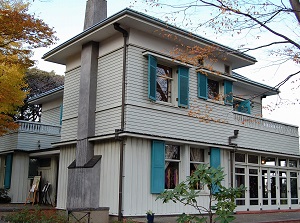 Ehrismann Residence
Bluff No.234 (Yamate 234-bankan in Japanese) is the apartment buiding with four households built in 1927.
It is located about 100 meters southwest of Yamate Museum.
It was built for the foreign people after the Great Kanto Earthquake in 1923.
Ehrismann Residence is about 50 meters west of Bluff No.234.
It was the residence of Mr.Ehrismann, a Swiss merchant, built in 1926.
We can enter the residence for free.
And there is a small cafe on the corner in the residence.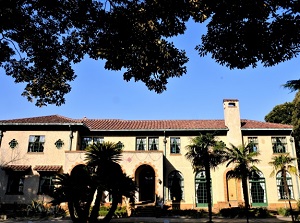 Berrick Hall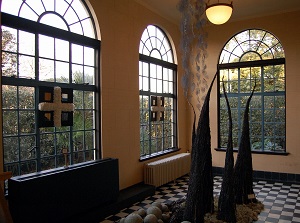 Inside of Berrick Hall
Berrick Hall is just west of Ehrismann Residence.
It was originally the residence of Mr.Berrick, a British trader, built in 1930.
It was contributed to an international school after World War II, and was used as the student residence until 2000.
How to get here
300 meters to Foreign General Cemeterye from Motomachi-Chukagai station of Minatomirai Line.
Other Tourist Attractions in Yokohama
Minato Mirai 21 area
Kan-nai area
Yamate area
Other spots in Yokohama city