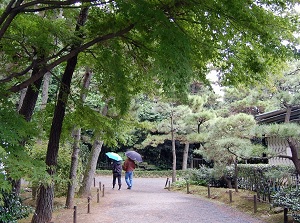 Sankeien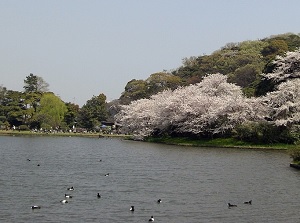 Pond of Sankeien in spring
Sankeien is a Japanese garden located about 4 km south of Kan-nai area.
It was built by Hara Sankei (1868-1939), a rich businessman and master of ceremonial tea, and was opened in 1906.
The garden has an area of 17.5 hectares.
There are some ponds and 17 old Japanese buildings in the garden.
They had been moved and reconstructed here from all over the country.
Most of them are designated as national important cultural properties.
This garden is not an outdoor museum.
The buildings are placed so that it features a harmony of the scenery of the garden.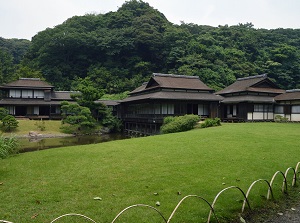 Rinshunkaku in Sankeien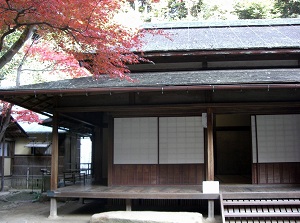 Gekkaden in Sankeien
The main buildings of national important cultural properties are the followings.
Rinshunkaku (

臨春閣

) : The residence of Tokugawa Family in Kishu Domain (Current Wakayama Prefecture). (built in 1649)
It has three buildings.
Gekkaden (

月華殿

) : The waiting room in Fushimi Castle in Kyoto. (built in 1603)
Shunsouro (

春草廬

) : The tea room in Mimurotoji temple in Uji city (Kyoto Prefecture). (built in the late 16th century)
Old Tenzuiji Jutou Ooidou (

旧天瑞寺寿塔覆堂

) : The building covering the tomb of Shogun Hideyoshi Toyotomi's mother. (built in 1591)
Choshukaku (

聴秋閣

) : The unique villa in Nijo Castle in Kyoto. (built in 1623)
Old Toukeiji Sanctum (

旧東慶寺仏殿

) : The Buddhist sanctum in Kamakura city. (built in 1634)
Three-storied Pagoda of Old Toumyoji (

旧燈明寺三重塔

) : The three-storied pagoda in Kyoto Prefecture. (built in 1457)
The Main Hall of Old Toumyoji (

旧燈明寺本堂

) : The main hall of Toumyoji temple with above pagoda. (built in 1392)
Old Yanohara House (

旧矢箆原家住宅

) : The private house in Gifu Prefecture. (built in the 18th century)
Tenjuin (

天授院

) : The temple in Kamakura city. (built in 1651)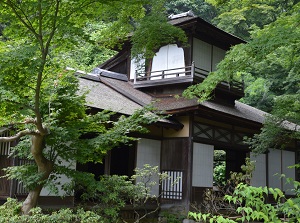 Choshukaku in Sankeien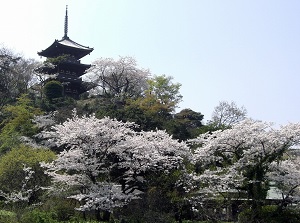 Three-storied Pagoda in spring
The main gate is located at the northeast of the site.
How to get here
Get on Yokohama city route bus No.8 or 148, and get off at Sankeien-iriguchi stop.
About 300 meters from the bus stop to the main gate.
The buses start from Yokohama station (east exit), stop at Sakuragicho station and Motomachi-Chukagai stations, the go to Sankeien-iriguchi.
On Saturday, Sunday and Japanese holiday, "Burari-Sankeien Bus" is operated as the special bus.
It runs on the same route of regular bus, but the bus goes to the main gate of Sankeien.
Other Tourist Attractions in Yokohama
Minato Mirai 21 area
Kan-nai area
Yamate area
Other spots in Yokohama city