Nippon Maru Memorial Park [
日本丸メモリアルパーク

]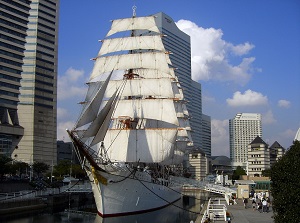 Nippon Maru with spread sails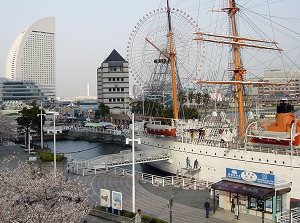 Entrance of Nippon Maru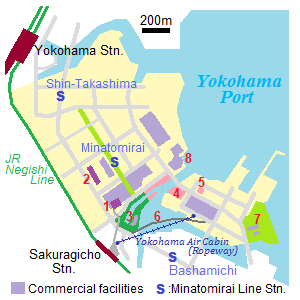 Map of Minaro Mirai 21
1) Landmark Tower 2) Yokohama Museum of Art
3) Nippoin Maru 4) Yokohama Cosmo World
5) Cup Noodles Museum 6) Kishamichi
7) Red Brick Warehouse 8) Pukari-Sanbashi
Nippon Maru Memorial Park is a park located just south of Landmark Tower.
There are a large sailing ship Nippon-maru (日本丸) and Yokohama Port Museum (横浜みなと博物館).
Nippon-maru was completed in 1930 as a navigation training ship.
And, it was retired in 1984.
For 54 years, about 11,500 students were trained by this ship.
And it has been exhibited here since 1985.
It is a large sailing ship.
The length is 97 meters and the width is 13 meters.
The highest point of the mast above the water line is about 46 meters.
Now, 29 sails are set up on the ship.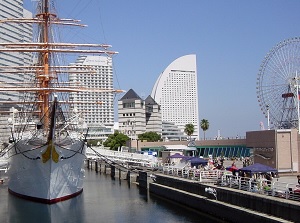 Yokohama Port Museum by Nippon Maru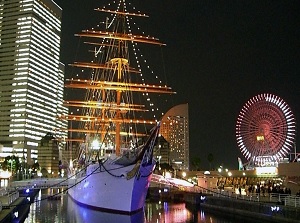 Nippon Maru in the evening
The ship is displayed in the former Yokohama dockyard.
The dockyard was completed in 1898, and is designated as a national important cultural property.
In additon, new Nippon-maru is used for tha training since 1984.
Yokohama Port Museum is by Nippon Maru.
It introduces the history of Yokohama port and the knowledge of various ships.
How to get here
About 300 meters from JR Sakuragicho station.
Or, about 500 meters from Bashamichi station of Minatomirai Line.
Other Tourist Attractions in Yokohama
Minato Mirai 21 area
Kan-nai area
Yamate area
Other spots in Yokohama city