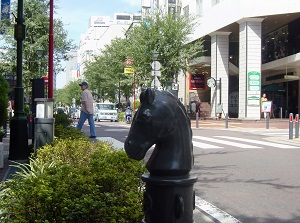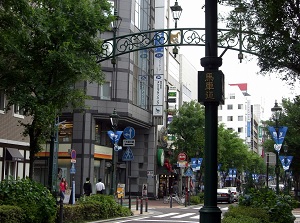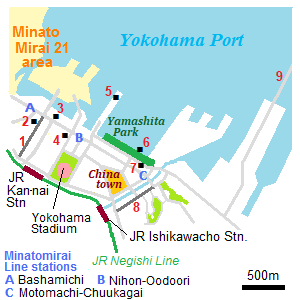 Map of Kan-nai area
1) Bashamichi 2) Museum of Cultural History
3) NYK Maritime Museum 4) Kaiko-Kinen Kaikan
5) Ôsanbashi 6) Hikawamaru 7) Marine Tower
8) Motomachi 9) Yokohama Bay Bridge
Bashamichi is a street one block northwest from the north exit of JR Kan-nai station, and runs toward northeast.
The length is about 500 meters.
"Basha" means " horse-drawn carriage", and "michi" means "road".
After opening Yokohama Port in 1859, this street was a main road connecting foreign settlements and Yokohama Port.
The foreigners came and went by horse-drawn carriage.
But the horse-drawn carriage was unusual for Japanese people.
Therefore they called this street such name.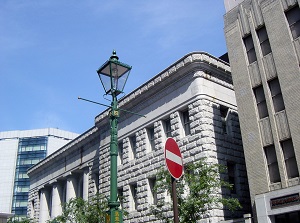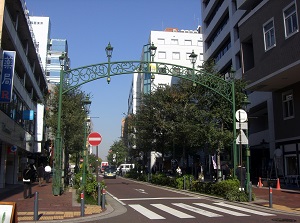 Along this street, gas lamps were installed for the first time in Japan.
And Japan's first ice cream was sold at this street.
Here is one of the good streets for a stroll.
How to get here
200 meters from JR Kan-nai station.
Or, near Bashamichi station of Minatomirai Line.
Hotels around Yokohama Landmark Tower
Other Tourist Attractions in Yokohama
Minato Mirai 21 area
Kan-nai area
Yamate area
Other spots in Yokohama city