Yokohama Bay Bridge [
横浜ベイブリッジ

]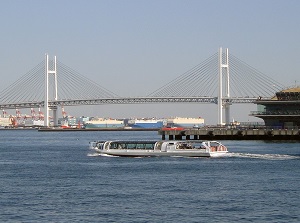 From Red Brick Park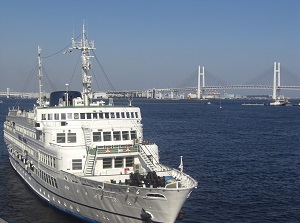 From Osanbashi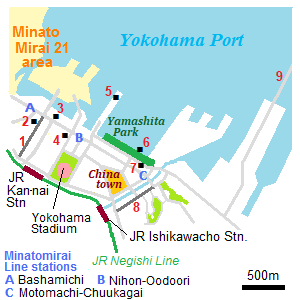 Map of Kan-nai area
1) Bashamichi 2) Museum of Cultural History
3) NYK Maritime Museum 4) Kaiko-Kinen Kaikan
5) Ôsanbashi 6) Hikawamaru 7) Marine Tower
8) Motomachi 9) Yokohama Bay Bridge
Yokohama Bay Bridge is a cable-stayed bridge located about 2 km east of Yamashita park.
It is built over Yokohama Port from north to south in 1989.
The length is 860 meters, and this bridge is for cars.
It has no walkway.
This bridge is a part of the expressway running along the coast line of Tokyo Bay.
We can see the bridge at any place of Yokohama Port.
But this bridge has a problem.
The height of the bridge above sea level is about 55 meters.
Therefore, several large cruise ship in the world can't pass under this bridge.
So they can't stop at Ôsanbashi pier which is the best place for the sightseeing of Yokohama.
How to get here
Basically, you can see the view from main area of Yokohama Port.
And Yokohama Port Cruising ships pass under the bridge.
Hotels around Yokohama Landmark Tower
Other Tourist Attractions in Yokohama
Minato Mirai 21 area
Kan-nai area
Yamate area
Other spots in Yokohama city