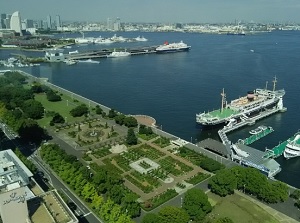 Yamashita Park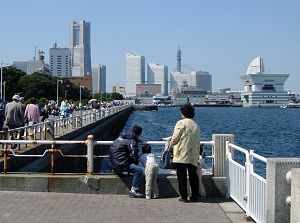 Yamashita Park by the port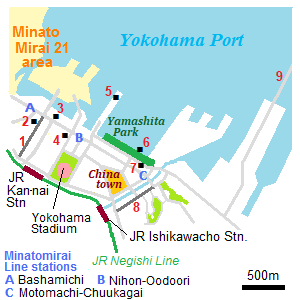 Map of Kan-nai area
1) Bashamichi 2) Museum of Cultural History
3) NYK Maritime Museum 4) Kaiko-Kinen Kaikan
5) Ôsanbashi 6) Hikawamaru 7) Marine Tower
8) Motomachi 9) Yokohama Bay Bridge
Yamashita Park is a park along Yokohama Port.
It is located just southeast of Osanbashi pier.
The park is a little under 1 km long from east to west and is about 80 meters in width.
The northern side faces Yokohama Port.
We can see the good view of the port such as Yokohama Bay Bridge and Minato Mirai 21.
After the Great Kanto Earthquake in 1923, this park was built using the rubble of city as the symbol of reconstuction in 1930.
There are lawn, flowerbeds, fountains and several statues and monuments.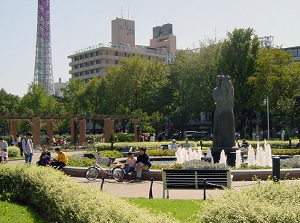 Flowerbeds in Yamashita Park

Statue of a girl with Akai Kutsu
A few of the monuments are associated with the Japanese children's songs about Yokohama Port created in the 1920s to 1930s.
("Akai Kutsu" [Red Shoes], "Kamome no suihei-san" [Gulls like sailors])
Even now, many Japanese people know these songs.
In addition, a ship Hikawamaru is moored as the museum to a pier around the center of this park.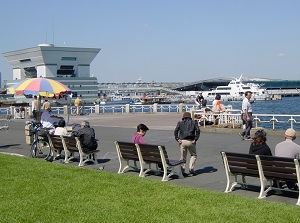 Osanbashi from Yamashita Park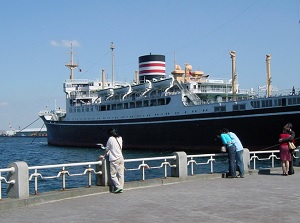 Hikawamaru
Water bus & Cruising ship
Here is one of the boarding points of water bus ("Sea Bass") and cruising ships ("Marine Shuttle", "Marine Rouge") around Yokohama Port.
Other boarding points are Red Brick Warehouse and Pukari Pier in Minato Mirai 21.
Only water bus visit near the east exit of JR Yokohama station.
How to get here
200 meters from Motomachi-Chukagai station, 500 meters from Nihon-Odori station of Minatomirai Line.
1.5 km from Kan-nai station of JR Negishi Line.
Hotels around Yokohama Landmark Tower
Other Tourist Attractions in Yokohama
Minato Mirai 21 area
Kan-nai area
Yamate area
Other spots in Yokohama city