Yokohama Red Brick Warehouse [
横浜赤レンガ倉庫

]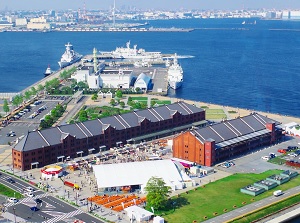 Yokohama Akarenga Park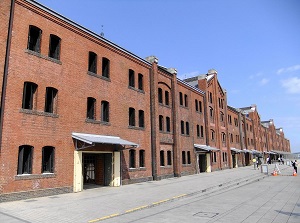 Yokohama Red Brick Warehouse No.2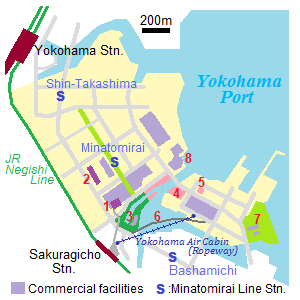 Map of Minaro Mirai 21
1) Landmark Tower 2) Yokohama Museum of Art
3) Nippoin Maru 4) Yokohama Cosmo World
5) Cup Noodles Museum 6) Kishamichi
7) Red Brick Warehouse 8) Pukari-Sanbashi
There are two red brick warehouses at the east part of Shinko district which is the eastern area of Minato Mirai 21.
The Warehouse No.1 was built in 1913, and No.2 was built in 1911.
And they had been used until 1989.
When Minato Mirai 21 had been constructed, the exterior of these warehouses had been left in its original state and the only interior had been rebuilt.
Now the No.1 has cultural facilities such as hall and exhibit space, and the No.2 has many shops.
The site around these warehouses was developed into a park, and it is called as Yokohama Akarenga Park (横浜赤レンガパーク).
("Akarenga" means "red brick" in Japanese.)
Here is the most popular spot in Minato Mirai 21.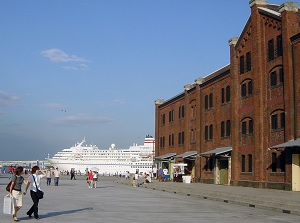 Red Brick Warehouse & cruising ship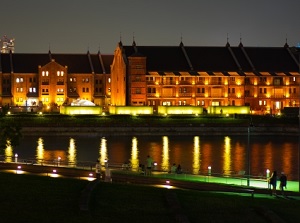 Red Brick Warehouses in the evening
Water bus & Cruising ship
Here is one of the boarding points of water bus ("Sea Bass") and cruising ships ("Marine Shuttle", "Marine Rouge") around Yokohama Port.
Other boarding points are Yamashita Park and Pukari Pier in Minato Mirai 21.
Only water bus visit near the east exit of JR Yokohama station.
How to get here
1.2 km from JR Sakuragicho station through Kishamichi Promenade.
Or, about 700 meters from Bashamichi station of Minatomirai Line.
Other Tourist Attractions in Yokohama
Minato Mirai 21 area
Kan-nai area
Yamate area
Other spots in Yokohama city