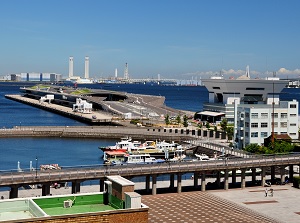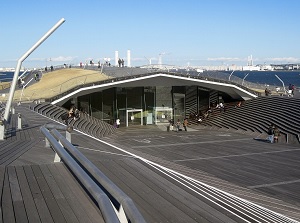 Back of a whale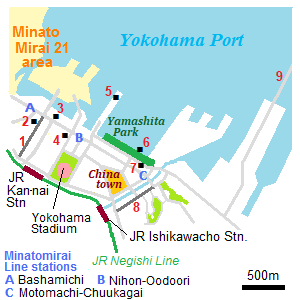 Map of Kan-nai area
1) Bashamichi 2) Museum of Cultural History
3) NYK Maritime Museum 4) Kaiko-Kinen Kaikan
5) Ôsanbashi 6) Hikawamaru 7) Marine Tower
8) Motomachi 9) Yokohama Bay Bridge
Ôsanbashi is the main international pier of Yokohama Port for passenger ships.
It is located the waterfront in the center of Kan-nai area.
There is Red Brick Park in Minato Mirai 21 to the west, and Yamashita Park is located just southeast of this pier.
It is the oldest pier in Yokohama, and it was completed in 1896.
To meet modern demands, it was reconstructed in 2002.
On the pier, there is the international passenger terminal.
The building is unique, and it has no pillar, no beam, and no step.
The nickname of the rooftop is "Back of a whale".
It is about 430 meters long and about 70 meters wide.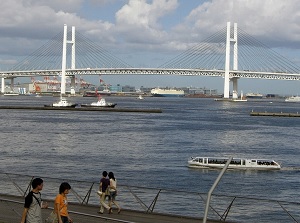 View of Yokohama Bay bridge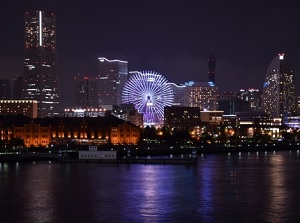 Night view of Minato Mirai 21 from Osanbashi
It opened free 24 hours a day, and it is a good spot that we can view Yokohama Port all day.
How to get here
500 meters from Nihon-Odori station of Minatomirai Line.
1.5 km from Kan-nai station of JR Negishi Line.
Hotels around Yokohama Landmark Tower
Other Tourist Attractions in Yokohama
Minato Mirai 21 area
Kan-nai area
Yamate area
Other spots in Yokohama city