Yokohama Chinatown [
横浜中華街

]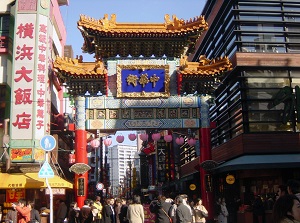 Zenrin-mon of Yokohama Chinatown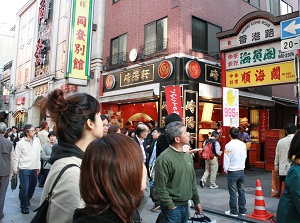 Chukagai Odori street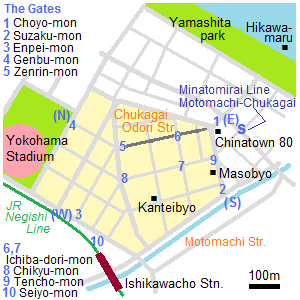 Yokohama Chinatown is located southwest of Yamashita park in Kan-nai area.
The area is about 500 to 700 meters square, and there are more than 500 shops in the area.
In this area, about 2,000 Chinese people are living now.
It is the largest chinatown in Japan and in the East Asia.
(In Japan, chinatowns are also in Kobe and Nagasaki cities.)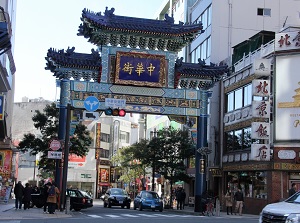 Choyo-mon of Yokohama Chinatown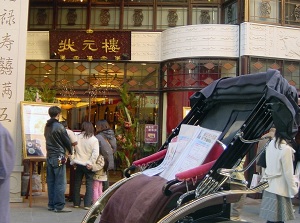 Rickshaw and a big restaurant
After opening Yokohama port in 1859, Chinese trading merchants had come and settled here.
Then this town has repeated its development and declination by Sino-Japanese War (1894), Great Kanto Earthquake (1923) and Second Sino-Japanese War (1937-1945).
After World War II, it began to develop again.
And since normalizing Japan-China diplomatic relations in 1972, this town became a popular sightseeing spots for Japanese people.
Now many Japanese visitors come here every day.
Most of the shops in this town are Chinese restaurants, cafes, groceries and antique shops.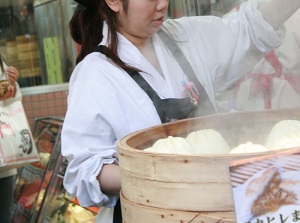 Steamed meat bun for takeout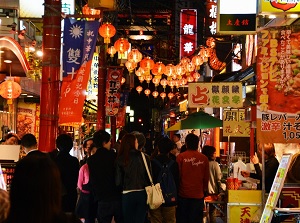 Chinatown in the evening
There are four main gates at the entrance of the town in four directions.
Every gate has different colors based on "feng shui", which is an ancient Chinese thought that the position of things defines the future.
And other six gates are in the town.
One of them is Zenrin-mon gate in the center of the town.
Between Zenrin-mon (善隣門) and Choyo-mon (朝陽門, the east gate), the main street Chukagai Odori (中華街大通り) runs.
This is the street that many visitors gather.
There is the information center ChinaTown80 near Choyo-mon gate.
You can get various infos about chinatown and Yokohama.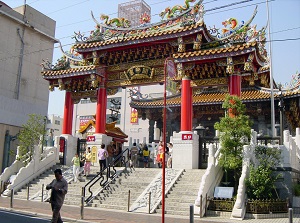 Kanteibyo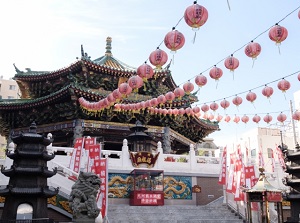 Masobyo
Kanteibyo (
関帝廟

)

Kanteibyo is a Chinese temple enshrining Guan Yu, a Chinese warlord in the 3rd century, as the "god of business".

The temple was founded in 1871.

It was destroyed by the Great Kanto Earthquake in 1923 and the Yokohama air raids in 1945.
On each occasion, the temple was rebuilt.

The current temple is rebuilt in 1990, after it was destroyed by fire in 1986.
Masobyo (
媽祖廟

)

Masobyo (Ma Zhu Miao in English) is the new temple founded in 2006.

It enshrines the goddess of the sea who protects fishermen and sailors.
So it is the guardian god for Chinese people over the sea.
How to get here
100 meters to Choyo-mon from Motomachi-Chukagai station of Minatomirai Line.
300 meters from Ishikawacho station of JR Negishi Line.
Hotels around Yokohama Landmark Tower
Other Tourist Attractions in Yokohama
Minato Mirai 21 area
Kan-nai area
Yamate area
Other spots in Yokohama city