Yokohama Cosmo World [
よこはまコスモワールド

]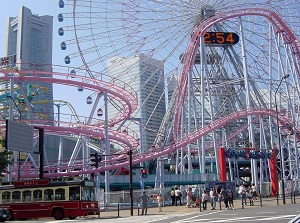 Yokohama Cosmo World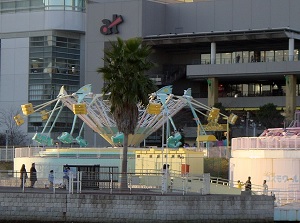 An attraction by waterway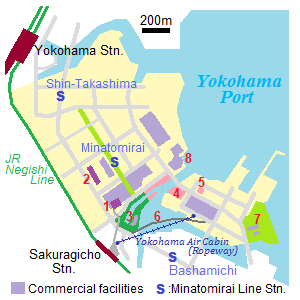 Map of Minaro Mirai 21
1) Landmark Tower 2) Yokohama Museum of Art
3) Nippoin Maru 4) Yokohama Cosmo World
5) Cup Noodles Museum 6) Kishamichi
7) Red Brick Warehouse 8) Pukari-Sanbashi
Yokohama Cosmo World is an amusement park in Minato Mirai 21.
It is located to the east of Landmark Tower and Nippon Maru Memorial Park.
The site has three areas separated by waterway.
The areas are "Wonder Amusement Zone", "Burano Street Zone" and "Kids Carnival Zone".
There are 32 attractions in all areas.
Especially, the giant Ferris wheel Cosmo Clock 21 is the symbol of the amusement park.
It is the largest Ferris wheel in Japan.
The diameter is 100 meters, and it has 60 passenger cars. (The riding capacity is 480 people.)
Because of 60 passenger cars, the illumination is lit like a big clock.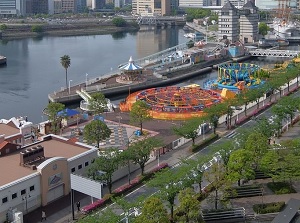 Yokohama Cosmo World by waterway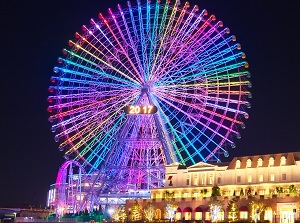 Cosmo Clock 21 in the evening
The admission fee is free and the visitor pays the fee at each attraction.
Therefore you can visit your favorite attraction directly.
How to get here
500 to 1,000 meters from JR Sakuragicho station.
Or, 200 to 700 meters from Minatomirai station of Minatomirai Line.
Hotels around Yokohama Landmark Tower
Other Tourist Attractions in Yokohama
Minato Mirai 21 area
Kan-nai area
Yamate area
Other spots in Yokohama city