Pukari-Sanbashi pier [
ぷかりさん橋

]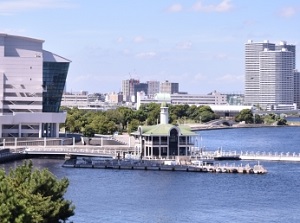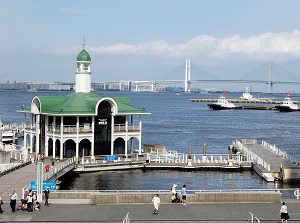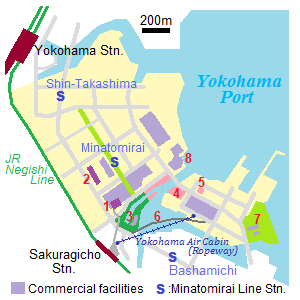 Map of Minaro Mirai 21
1) Landmark Tower 2) Yokohama Museum of Art
3) Nippoin Maru 4) Yokohama Cosmo World
5) Cup Noodles Museum 6) Kishamichi
7) Red Brick Warehouse 8) Pukari-Sanbashi
Pukari-Sanbashi is a pier located at the north part of Minato Mirai 21.
Here is one of the boarding points of water bus ("Sea Bass") and cruising ships ("Marine Shuttle", "Marine Rouge") around Yokohama Port.
Other boarding points are Yamashita Park and Red Brick Warehouse.
Only water bus visit near the east exit of JR Yokohama station.
This is unique floating passenger terminal with piers.
It is the Japan's first structure and it was completed in 1991.
There is a Western-style building of terminal office is on a big floating board.
The building has two stories, and the first floor is the ticket office.
On the 2nd floor, there is the directly-managed restaurant of "InterContinental Yokohama Grand" in front of the terminal.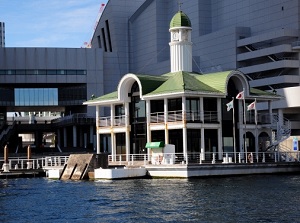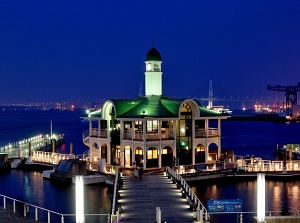 This wonderful sceney is popular, so it is one of the symbol of Minato Mirai 21 area.
By the way, "pukari" is an onomatopoeia in Japanese, and it expresses that an object is floating on the calm waves.
And "sanbashi" means "pier".
How to get here
1.1 km from JR Sakuragicho station through Kishamichi Promenade.
Or, about 500 meters from Minatomirai station of Minatomirai Line.
Hotels around Yokohama Landmark Tower
Other Tourist Attractions in Yokohama
Minato Mirai 21 area
Kan-nai area
Yamate area
Other spots in Yokohama city