Yokohama Landmark Tower [
横浜ランドマークタワー

]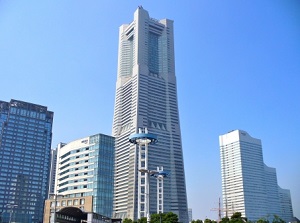 Yokohama Landmark Tower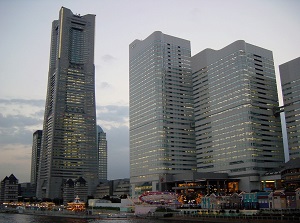 Around Yokohama Landmark Tower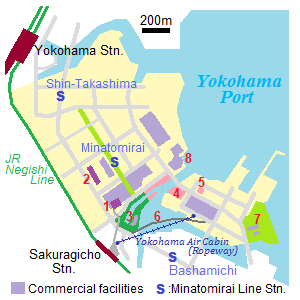 Map of Minaro Mirai 21
1) Landmark Tower 2) Yokohama Museum of Art
3) Nippoin Maru 4) Yokohama Cosmo World
5) Cup Noodles Museum 6) Kishamichi
7) Red Brick Warehouse 8) Pukari-Sanbashi
Yokohama Landmark Tower is the second highest building in Japan next to Abeno Harukas in Osaka city.
It is located about 350 meters north of JR Sakuragicho station.
It is literally the landmark of Minato Mirai 21, and a pedestrian walkway is connected from Sakuragicho station.
It was opened in 1993.
The height is 296 meters, and it has 70 stories above ground.
It has many offices, a hotel, restaurants and some clinics.
On the 69th floor, there is the observatory room Sky Garden, which is located at the level of 273 meters. (Admission is 1,000 yen.)
Additionally the elevators are fastest in Japan.
The speed is 750 meters a minutes.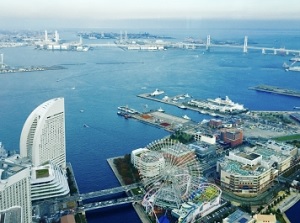 View of Minato Mirai 21 from Sky Garden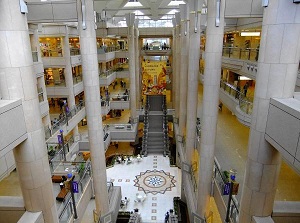 Landmark Plaza
On the north side of the tower building, there is a large shopping mall Landmark Plaza.
Dockyard Garden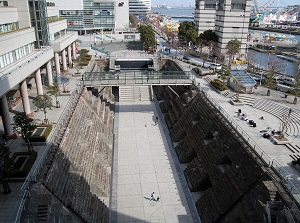 Dockyard Garden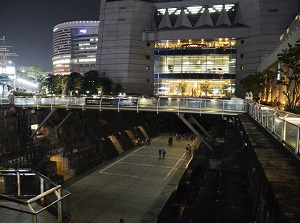 Dockyard Garden in the evening
Dockyard Garden is an open terrace or an event site of Landmark Tower.
It is just east side of the tower building.
Literally, here is the ruin of former Yokohama Dockyard of Mitsubishi Heavy Industries.
This dockyard was completed in 1896, and was used until 1973.
It is like deep moat, and the surrounding slopes are made of stones like the auditorium of Roman theater.
The length is about 107 meters, the width is about 29 meters, and the depth is about 10 meters.
And, it is designated as a national important cultural property.
There are several restaurants around this, and it is a good spot.
How to get here
About 350 meters from JR Sakuragicho station.
Or, about 300 meters from Minatomirai station of Minatomirai Line.
Hotels around Yokohama Landmark Tower
Other Tourist Attractions in Yokohama
Minato Mirai 21 area
Kan-nai area
Yamate area
Other spots in Yokohama city