Harbor View Park (Minato-no-Mieru-Oka Park) [
港の見える丘公園

]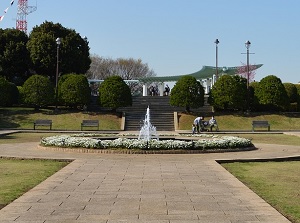 Observatory of Harbor View Park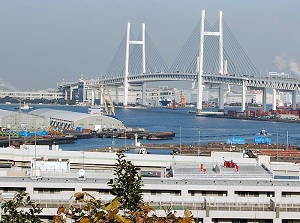 View of Yokohama Port at the observatory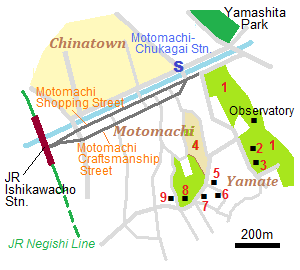 1) Harbor View Park 2) British House
3) Bluff No.111 4) Foreign General Cemetery
5) Yamate Museum 6) Tin Toy Museum
7) Bluff No.234 8) Ehrismann Residence
9) Berrick Hall
Harbor View Park is a hill park that the view of Yokohama Port and Yokohama Bay Bridge is seen.
In Japanese, it is called Minato-no-Mieru-Oka Koen.
The night view is better than daytime.
It is located to the east of the main streets of Motomachi town and to the southeast of Chinatown.
It is on the hill around 35 meters high.
The area is long from northwest to southeast, and the length is about 600 meters and the width is about 50 to 150 meters.
The northwest part of the park is former station of French army, and the southeast part is former station of British army.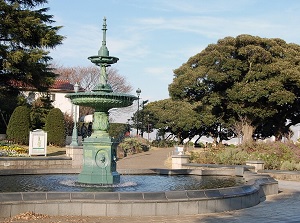 A fountain in Harbor View Park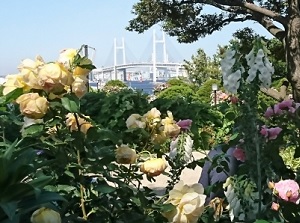 Rose garden and Yokohama Bay Bridge
Walking trails run through the park and there is the observatory at the center of the park.
There are the rose garden and forests, and the remains of French army are in the forests.
In the site, there are "British House" and "Bluff No.111" as the buildings of foreign settlement.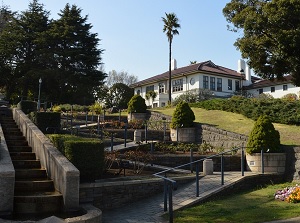 British House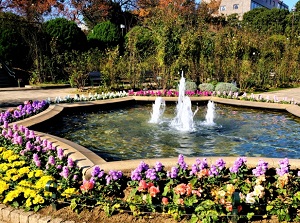 Garden near British House
British House (イギリス館) is the former British Consulate General built in 1937.
It has two stories, and had been used until 1969.
Yokohama city bought this house, then it has been opened to the public since 2002.
In front of the house, there is a rose garden.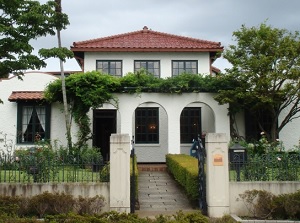 Bluff No.111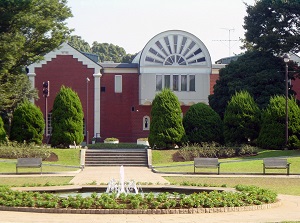 Osaragi Jiro Memorial Museum
Bluff No.111 (山手111番館) is the residence of American merchant Laffin built in 1926.
Laffin got married to Japanese woman and they lived in Yokohama.
Because his son was getting married, he built this residence as a present.
The Japanese name is "Yamate 111-bankan".
In addition, there are two museums about Japanese literature.
(Osaragi Jiro Memorial Museum and Kanagawa Museum of Modern Literature)
How to get here
100 meters to the north entrance from Motomachi-Chukagai station of Minatomirai Line.
900 meters to the north entrance from JR Ishikawacho station.
Hotels around Yokohama Landmark Tower
Other Tourist Attractions in Yokohama
Minato Mirai 21 area
Kan-nai area
Yamate area
Other spots in Yokohama city