Tourist Attractions in Yokohama
Minato Mirai 21 area
Kan-nai area
Yamate area
Other spots in Yokohama city
Yokohama is the prefectural capital of Kanagawa Prefecture.
The population is about 3.7 million, and is second large population in Japan after Tokyo.
The city is located at the western part of the prefecture.
Kawasaki city is to the north of the city, and Yokosuka city is to the south.
The central area of Yokohama is located about 30 km south-southwest of Tokyo station.
The east side of the city faces Tokyo Bay.
From 1192 to 1333, Kamakura to the south of this area was the center of politics in Japan.
And Tokyo to the north of this area has been the center of Japan since 1603.
Therefore, Yokohama has been the port town for the important cities.
Especially, when the Edo government abandoned an isolation policy since 1639, Yokohama port was opened to trade with foreign countries in 1859.
At that time, foreign settlement had been set up around the port, so the towns around the port had have the mood in European style.
And the area has developed as a city.
Since that, Yokohama became a port city, and became a big commuter town of Tokyo.
Therefore, the population is increasing rapidly.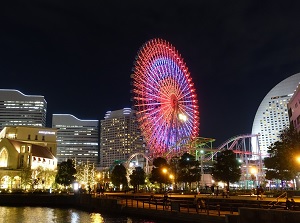 Minato Mirai 21 in the evening
Main sightseeing area is around Yokohama Port.
Minato Mirai 21 (みなとみらい21) is a new waterfront area and is the central business district of Yokohama.
It is located to the north of JR Sakuragicho (桜木町) station and at a western part of Yokohama Port.
The area is about 1.5 km from east to west and about 1 km from north to south.
There are many office buildings, international conference, hotels.
And there are some commercial facilities and amusement spots such as Landmark Tower, MARK IS minatomirai, Queen's Square YOKOHAMA, Yokohama World Porters, etc.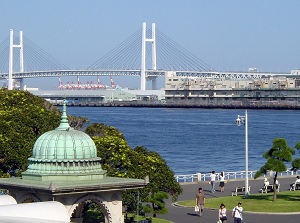 Yamashita Park & Yokohama Bay Bridge
The area around JR Kan-nai (関内) station is the central town of old Yokohama.
It is located just to the east of Minato Mirai 21 area and the north side faces Yokohama Port.
It is the district with government offices.
There are some historic buildings built from the 1900s to 1930s.
A few buildings are used as the government office, and the others are used as museum.
Around the east part of Kan-nai area, there are Yokohama Chinatown (横浜中華街) and Yamate district (山手) which is former foreign settlement.
To travel around these area, JR Negishi Line and Minatomirai Line are convenient.
From Tokyo, Shibuya and Yokohama station, direct trains are operated frequently.
And Yokohama city Transportation Bereau operates the route buses for tourists in these areas.
How to get here
Railway
To Yokohama from Tokyo : By JR Tokaido Line, 26 minutes.
To Yokohama from Shibuya : By Toyoko Line of Tokyu Railway, 30 minutes.
From Haneda Airport to Yokohama
About 25 minutes by Keikyu Railway.
About 45 minutes by express bus
Hotels around Yokohama
Other Tourist Attractions in Kanagawa Prefecture