Tourist Attractions in Yokosuka
Yokosuka is a city located in the center of Miura Peninsula at the southeast part of Kanagawa Prefecture.
The central area of the city located about 20 km south of Yokohama city and is about 45 km south of Tokyo.
The east side of the city faces Tokyo Bay.
The whole area is hilly, so there are several inlets along the coastline.
Because this area is near the entrance of Tokyo Bay and has such indented coastline, Imperial Japanese Navy opened the first naval port in 1872.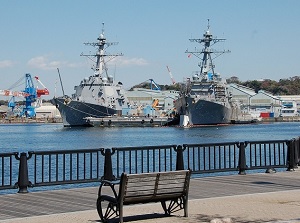 Yokosuka Port, Photo by Yokosuka City
The naval port as Imperial Japanese Navy finished due to Japan's defeat in the Pacific War in 1945.
After that, this port area has been used as the bases of United States Navy and Japan Maritime Self-Defense Forces.
Now, Yokohama Port is the port for passenger ships and cargo ships, but Yokosuka Port is the port for navy.
So, we can see various spots relating to the navy.
The nearest station to the central area of the city is Yokosuka-chuo of Keikyu Railway.
JR Yokosuka station is about 1.5 km west of Yokosuka-chuo station and is the western edge of the main area.
Only some of JR trains come from Tokyo and Yokohama to Yokosuka directly.
So, when you visit some spots, Keikyu Railway is convenient for tourists.
The specialty foods of Yokosuka are Navy Curry and Rice and Navy Burger.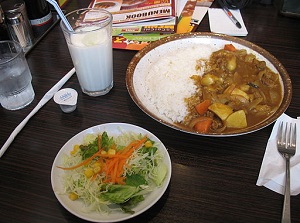 Navy Curry and Rice,
Photo by 武藏 [CC BY-SA 3.0
(https://creativecommons.org/licenses/by-sa/3.0)]
from Wikimedia Commons
Navy Curry and Rice originates from an Imperial Navy dish.
And the cooking guide was written in the cooking book of the Imperial Navy in 1908.
The dish is based on curry stew of the British Navy, and is very basic Japanese curry and rice.
Beef, carrot, onion and potato are cut into a small size and are stewed with curry powder, wheat flour and soup.
Then the curry stew is poured over boiled rice.
In fact, Japan Maritime Self-Defense Forces serves the curry and rice for the members every Friday.
Navy Burger is a hamburger that the United States Navy in Yokosuka provided Yokosuka city the recipe for a good relationship in 2008.
It is quite an American hamburger.
You can taste it at some shops around the United States Navy.
How to get here
By the limited express of Keikyu Railway, to Yokosuka-chuo, about 45 minutes from Shinagawa, about 26 minutes from Yokohama.
By JR Yokosuka Line, to Yokosuka, about 1 hour and 20 minutes from Tokyo, about 45 minutes from Yokohama, disrectly.
Other trains need to change the trains at any station.
Hotels in Yokosuka
Other Tourist Attractions in Kanagawa Prefecture