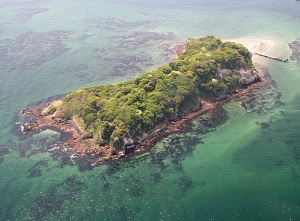 Sarushima
Photo by by TRYANGLE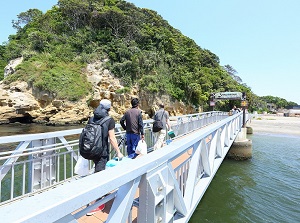 Pier of Sarushima
Photo by Yokosuka City
Sarushima is an uninhabited island, and is located about 1.5 km northeast of the coast in the center of Yokosuka city.
It is a small island about 450 meters from north to south and about 150 meters from east to west.
The height of the island is about 39 meters.
In the late Edo period, Japan's first fort was constructed in this island in 1847.
Japan was under the national isolation policy at that time, and foreign ships had sometimes appeared around Japan.
Because this island is at the entrance of Tokyo Bay, Edo government set up the fort.

Beach of Sarushima in summer
Photo by by TRYANGLE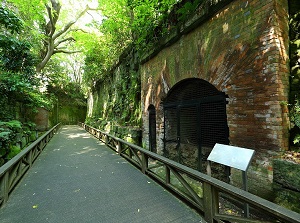 Ruin of fort in Sarushima
Photo by Yokosuka City
Therefore, the structures remain in this island.
So it is popular for Japanese people, because it is associated with the scene in a popular Japanese anime "Laputa: Castle in the Sky" by Studio Ghibli.
Between the middle of July and the end of August, the beach at the south coast is opened.
The ship starts from Mikasa Park.
It is operated every an hour, and it takes about 10 minutes to the island.
The round‐trip fare is 1,300 yen and you must pay 200 yen as the admission fee for this island.
How to get here
About 1 km walk from Yokosuka-chuo station of Keikyu Railway.
Hotels in Yokosuka
Other Tourist Attractions in Yokosuka