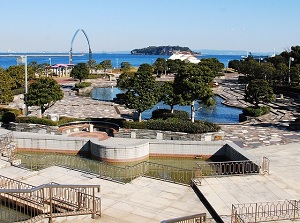 Mikasa Park
Photo by Yokosuka City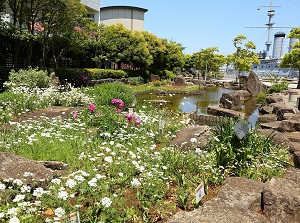 A garden in Mikasa Park
Photo by Yokosuka City
Mikasa Park is a park facing the east part of Yokosuka Port.
It is located about 0.8 km north of Yokohama-chuo station.
The area is about 300 meters north to south, and about 200 meters east to west.
There are many fountains, monuments and flower beds, and we can see Tokyo Bay and the port.
One of the monuments is Statue of Togo Heihachiro.
Togo Heihachiro (1848-1934) was an admiral of the fleet in the Imperial Japanese Navy.
In 1905, the Baltic Fleet (the Russian Navy) was defeated by the Imperial Japanese Navy led by him during the Russo-Japanese War.
So, he was a big hero in Japan at that time.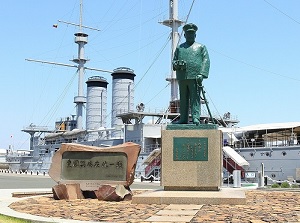 Statue of Togo Heihachiro
Photo by Yokosuka City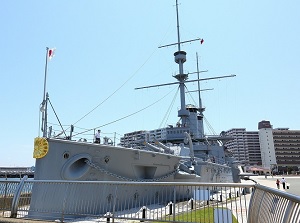 Battleship Mikasa in Mikasa Park
Photo by Yokosuka City
The largest monument in this park is Battleship Mikasa.
It is near the Statue of Heihachiro Togo.
The name of this park is from this ship.
Mikasa was constructed in England in 1899, and was used in the Russo-Japanese War.
And it was also used in the World War I in 1914.
The ship became out of commission in 1923, and it was set up in this park as a memorial in 1925.
How to get here
About 1 km walk from Yokosuka-chuo station of Keikyu Railway.
Hotels in Yokosuka
Other Tourist Attractions in Yokosuka