Yokosuka naval port cruising [
YOKOSUKA軍港めぐり

]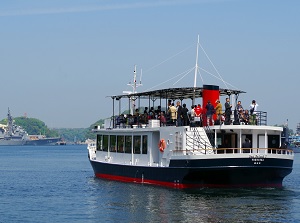 Photo by by TRYANGLE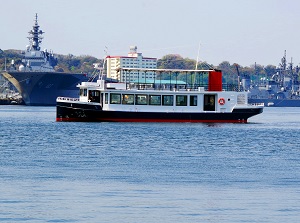 Photo by by TRYANGLE
Yokosuka naval port cruising is operated by TRYANGLE company.
Pleasure boat starts from Shioiri pier near Verny Park and cruises around Yokusuka port.
The boat passes close to the bases of United States Navy and Japan Maritime Self-Defense Forces, and we can see the naval ships nearby.
The cruising time is about 45 minutes.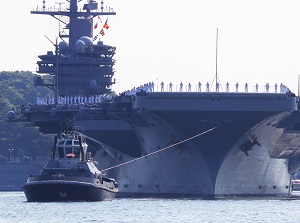 Aircraft carrier of U.S. Navy in Yokosuka
Photo by by TRYANGLE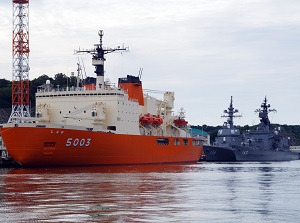 Ice Breaker & ships of
Japanese Maritime Defense Forces
Photo by by TRYANGLE
The regular starting times are 11:00, 12:00, 13:00, 14:00 and 15:00.
Sometimes, the boat is also operated at 10:00 and 16:00.
Basically, it is operated every day but is closed for several days in a year for regular inspections of the boats.
And, many seats are bookable in advance.
There are some tickets sold on the day, and you can buy the ticket at the ticket office of Shioiri pier.
The fare is 1,400 yen.
How to get here
About 300 meters walk from Shioiri station of Keikyu Railway.
About 100 meters walk from JR Yokosuka station.
Hotels in Yokosuka
Other Tourist Attractions in Yokosuka