Kawasaki Daishi temple [
川崎大師

]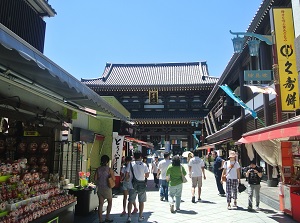 Nakamise & Main gate of Kawasaki Daishi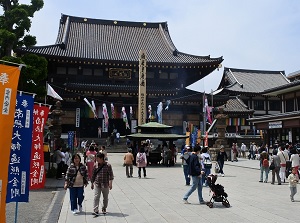 Main temple of Kawasaki Daishi
Kawasaki Daishi is a temple located about 3 km east of Kawasaki station (JR and Keikyu Line).
The formal name is Heikenji (平間寺), but the name of "Kawasaki Daishi" is well-known all over the country.
It is the headquarters of the Chisan sect of Shingon Buddhism which is one of Japanese Buddhism.
This temple was founded in 1128.
In the early 12th century, a samurai was living here by fishing.
He had been chased from his country for a crime he did not commit.
He was very poor, but he had been worshipping Koubou Daishi (The real name is Kuukai, the high priest in the 9th century).
One night, he met a priest in his dreams.
The priest said,
"I made a statue when I had stayed in China, then I floated it in the sea.
But it has not encountered the right person yet.
If you get it and worship it, you will become happy."
The samurai went to the sea immediately.
Then, he found a brilliant spot, so he cast a net.
He had gotten a wooden statue of Koubou Daishi.
After that, he built a small hut, set the statue in the hut, and had worshiped it every day.
One day, a travelling high priest visited him, and heard the samurai's marvelous story.
The priest was moved to tears, so he built a temple in cooperation with the samurai in 1128.
It is said that the temple was the current Kawasaki Daishi.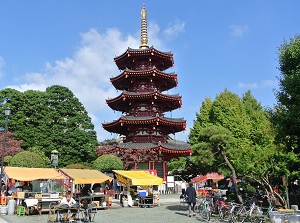 Octagonal Five-story Pagoda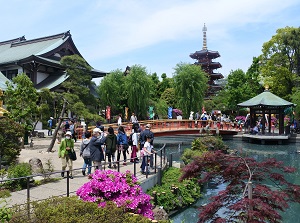 A pond in Kawasaki Daishi
This temple has long been popular for protecting people from bad luck and danger.
So, during the first three days of the New Year, more than 3 million people visit here every year.
It is the third most visitors in Japan, after Meiji Shrine (Tokyo) and Narita-san (Chiba Prefecture).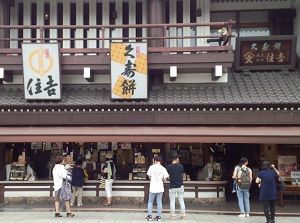 Shop of Kuzumochi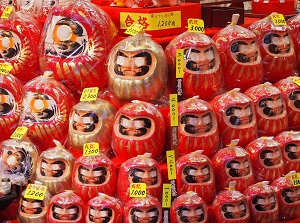 Daruma shop in Kawasaki Daishi
The approach of the temple has many shops, and it is called Nakamise.
Most of the shops sell "Kuzumochi", "Ame", or "Daruma doll".
Kuzumochi is the glutineous jelly made from fermented wheat starch, and we eat it with coating roasted soybean flour and black molasses.
Ame is Japanese candy.
We hear sounds all around that many ame workers cut up ame with knife on a board by striking.
The place that we can hear such sounds is only here in Japan.
Daruma is the founder of the Zen sect, and daruma doll presents the appearance his Zen sitting meditation.
Most of them are painted red.
It is one of lucky charms.
How to get here
Get off at Keikyu-Kawasaki station on Keikyu Line.
By limited express about 13 minutes from Shinagawa, about 8 minutes from Yokohama.
(JR Kawasaki station is about 200 meters away from Keikyu-Kawasaki.)
Change to Keikyu Daishi Line at Keikyu-Kawasaki station.
About 7 minutes to Kawasaki-Daishi station.
Hotels around Kawasaki city
Other Tourist Attractions in Kanagawa Prefecture