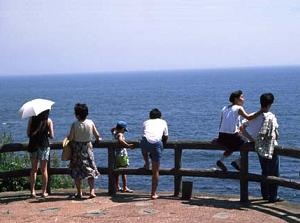 Observatory of Jogashima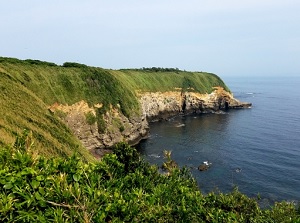 Southern cape of Jogashima
Jogashima is a small island near the south end of Miura peninsula.
It is located about 35 km south of Yokohama city.
The vowel "o" in the word "Jogashima" is pronounced long, so it is read as "Jôgashima" in Japanese.
The island is only 1.8 km from east to west and 0.6 km from north to south in width.
The whole island is formed by a tableland about 30 meters high, and it is surrounded by cliffs.
Especially, the southern coast facing directly the Pacific Ocean has steep cliffs.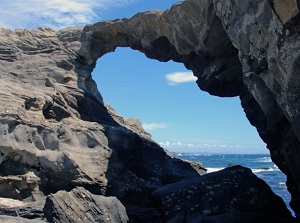 Strange rock in Jogashima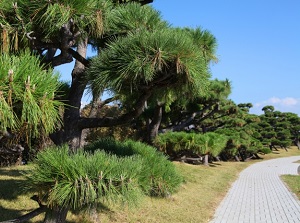 Natural park in Jogashima
The northern coast faces the mainland across a narrow channel which has a width of only 200 to 300 meters.
And there is Misaki fishery harbor on the side of mainland.
There is Jogashima-ohashi bridge across the channel, so we can visit Jogashima by bus or car.
The tableland is relatively flat.
The east part of the island is natural park.
There are a few hotels in the west part, and the route buses from the mainland run to the west area.
The sightseeing object of this island is the nature of the sea.
We can see the vast Pacifiv Ocean and the rocky coast.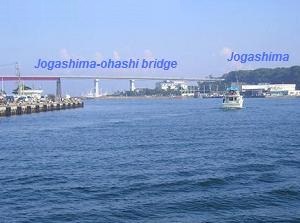 Misaki fishery harbor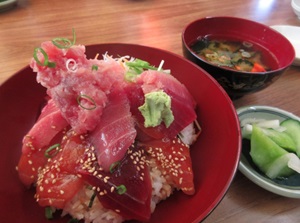 Tuna dish served around Misaki fishery harbor
Misaki fishery harbor (三崎漁港) facing Jogashima is known for one of the most landing ports of tuna.
Around the harbor, there are the not only the wholesale market of fish but also many fish stores and restaurants.
Of course, the restaurants serve the various dishes using tuna.
"Misaki Fisharina Wharf - Urari" is the large fish market for visitors, and is near the harbor.
The company operates the shipping service around Jogashima.
How to get here
Get on the limited express to Misakiguchi terminal on Keikyu Railway.
About 47 minutes from Yokohama, about 65 minutes from Shinagawa.
By route bus from Misakiguchi station, about 15 minutes to Misaki fishery harbor, about 28 minutes to Jogashima.
Hotels in Miura city
Other Tourist Attractions in Kanagawa Prefecture