Tourist Attractions in Obama city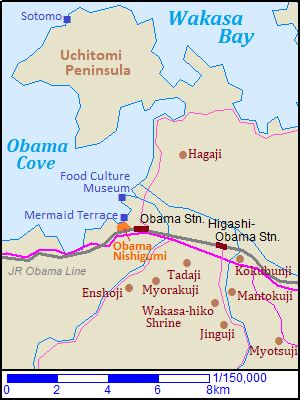 Obama Nishigumi area
Southern suburb
Southeastern suburb
Waterfront area
Northern suburb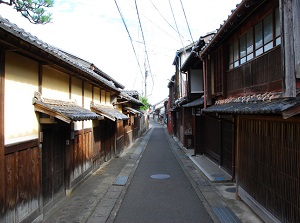 Sanchome old town in Obama
Photo by Fukui Prefectual Tourism Federation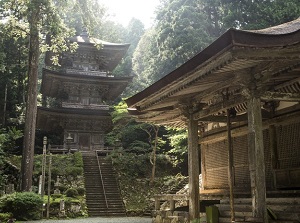 Myotsuji temple in Obama
Photo by Fukui Prefectual Tourism Federation
Obama is a small city located about 35 km west-southwest of Tsuruga city.
It is nearly the center of Wakasa area.
The city faces Obama Cove, which is surrounded by two small peninsulas like breakwater.
Obama had been one of the port towns on the Sea of Japan side since ancient times.
And it had been an entrance from the continent to Japan since the 7th century.
Wakasa area including Obama has good fishing grounds of Wakasa Bay.
So various marine foods of Wakasa Bay had been sent from Obama to Kyoto, the ancient Japanese capital.
Therefore, Obama had been the very important supply center of marine foods.
The carriers in Obama had always run through the mountain road about 80 km long to Kyoto within a day.
Especially fresh mackerels ("saba" in Japanese) were salted quickly in Obama.
And when the carriers reached Kyoto the next day, the salted mackerels had become more tasty.
Therefore, the route between Obama and Kyoto has been called Mackerel Road (Saba Kaidô [鯖街道] in Japanese).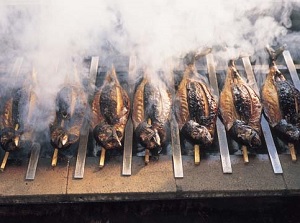 Grilling saba in Obama
Photo by Fukui Prefectual Tourism Federation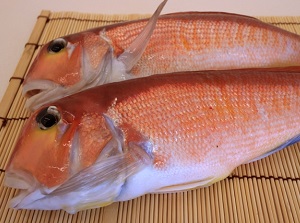 Wakasa Guji in Obama
In addition, even now, some kinds of fish in Wakasa Bay are the high-quality fishes using in local cuisine of Kyoto.
Wakasa Guji (Tilefish), Wakasa Karei (Flounder) and Wakasa Fugu (Puffer fish) are well known, and some restaurants serve the dish of the fishes.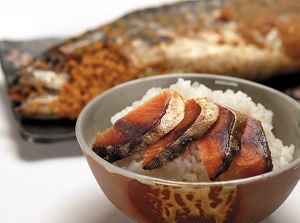 Heshiko in Obama
Photo by Fukui Prefectual Tourism Federation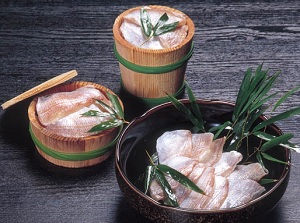 Kodai-Sasazuke in Obama
Photo by Fukui Prefectual Tourism Federation
And there are a few local specialties of pickled fish.
Heshiko is the salted mackerel pickled in rice bran.
And, Kodai-Sasazuke is the salted yellowback seabream pickled in vinegar.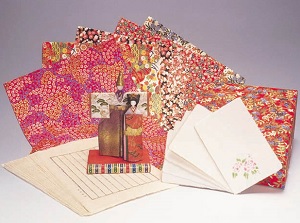 Wakasa paper
Photo by Fukui Prefectual Tourism Federation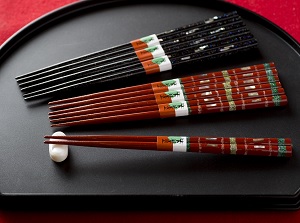 Chopsticks of Wakasa Lacquerware
Photo by Fukui Prefectual Tourism Federation
Obama also has various high-quality traditional craftworks.
Craftworks of agate, Wakasa Washi (Japanese paper), and Wakasa Lacquerware are well known.
Especially, chopsticks of Wakasa Lacquerware are popular, and Obama city produces 60% of the national production volume.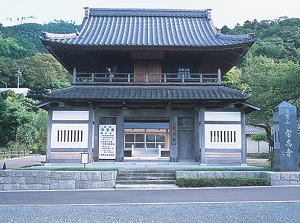 Jokoji temple
Photo by Fukui Prefectual Tourism Federation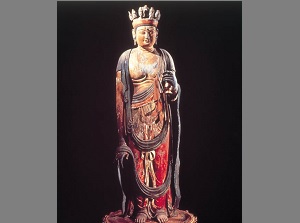 Buddha statue of Hagaji
Photo by Fukui Prefectual Tourism Federation
On the other hand, various cultures in Kyoto had come to Obama through this road.
There is Obama Nishigumi (小浜西組) area about 0.5 km west of Obama station.
It is the town with traditonal houses constructed as a part of the castle town in the 17th century.
It is about 1 km from east to west and about 200 to 300 meters from north to south.
The town is similar to Gion in Kyoto.
So, Obama is sometimes called Little Kyoto in Wakasa.
About 130 Buddhist temples had been built in the 8th to 14th centuries in this small city.
Several temples are designated as national treasures and national important cultural properties.
Some of them were founded when the capital of Japan was in Nara in the 8th century.
Therefore, Obama is also called Nara facing sea. (Nara city is inland.)
Additionally, it is very attractive that important principal images of Buddha can be seen up closely in some temples in Obama.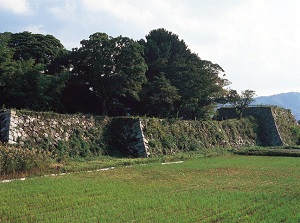 Ruin of Obama castle
Photo by Fukui Prefectual Tourism Federation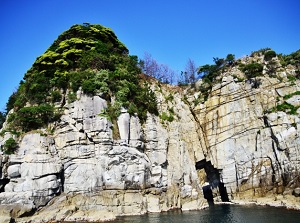 Sotomo in Obama
Photo by Fukui Prefectual Tourism Federation
The start point to travel around Obama city is JR Obama station.
The central area is on the northern side, and the area is within 1 km.
There is the waterfront area to the northwest of the town, and there is the ruin of Obama Castle built in 1601 and demolished in 1871.
From the port, the pleasure ship visiting the rocky cliff Sotomo (蘇洞門) facing Wakasa Bay is operated.
Most major Buddhist temples are dotted in the southern and eastern suburbs.
As above, several must-see spots are in the suburbs.
Unfortunately, there is no route bus visiting the spots.
So, to tour around Obama city, rental bicycle or rental car is useful.
Rental bicycle shops are around JR Obama station and Higashi-Obama station.
Only on Saturday and Sunday from the end of April to November, OBAMA CITY ROUND BUS is operated around the center area of the city for tourists.
It is operated 4 times a day by retro bus, and you can ride for free.
By the way, "Obama" means "small beach" in Japanese.
As you have noticed, the name is the same as Barack Obama who served as president of the United States from 2009 to 2017.
The Mayor of Obama city sent a letter with a specialty product of Obama city to Barack Obama without permission, when Barack Obama was a presidential candidate.
Later, the mayor received the thank-you note from him.
(Unfortunately, President Obama didn't visit Obama city when he came to Japan.)
How to get here
By limited express of JR Hokuriku Lines, to Tsuruga, about 1.5 hours from Osaka, about 1.5 hours from Nagoya, about 1 hour and 20 minutes from Kanazawa.
Then, by local train of JR Obama Line, about 1 hour from Tsuruga to Obama.
Hotels around Obama city
Other Tourist Attractions in Fukui Prefecture