Ichijodani Asakura Clan Ruins [
一乗谷朝倉氏遺跡

]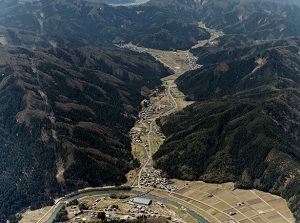 Ichijodani valley
Photo by Fukui Prefectual Tourism Federation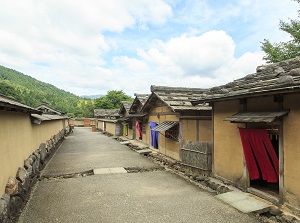 Restored town of Ichijodani
Photo by Fukui Prefectual Tourism Federation
Ichijodani is a valley located about 10 km southeast of central Fukui city.
"O" in the word is pronounced long, and it is read as "Ichijôdani".
Here was a major castle town from the 1470s to the 1570s.
In 1471, Asakura Takakage who was a warlord established his base in this valley.
Then, he unified Echizen area.
A castle was built on a hill in Ichijodani, and the castle town modeled after Kyoto was constructed.
Kyoto city was the nation's capital at that time.
But, Kyoto had been involved in a great civil war.
So, many court nobles, high priests and intellectuals moved from devastated Kyoto to Ichijodani.
Therefore, Ichijodani became a cultural city, then it was called "Northen Kyoto".
It is said that the city had a population of more than 10,000 people and became the central city in Echizen area.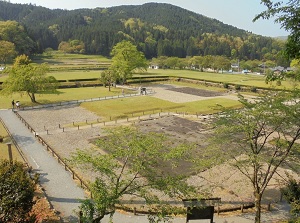 Ruin of Asakura Residence in Ichijodani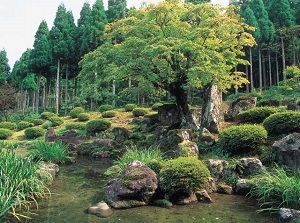 Restored Japanese garden in Ichijodani
Photo by Fukui Prefectual Tourism Federation
Asakura Clan had governed Echizen area based in Ichijodani for five generation.
But, in 1573, the city was attacked by the troop of Oda Nobunaga who had the ambition to unify Japan.
They set fire to the city, then whole city had been burned to the ground.
After that, Ichijodani had been abandoned and had lain buried in the ground.
About four centuries later, the excavation of this ruin was started in 1967.
Various ruins were found under the ground in good condition and the city in those days was discovered.
In 1995, a part of castle town was restored.
Now these ruins have been designated as a special national historic spot.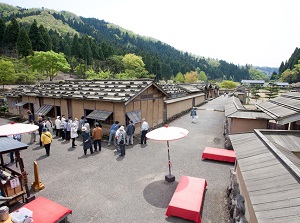 Restored town in Ichijodani
Photo by Fukui Prefectual Tourism Federation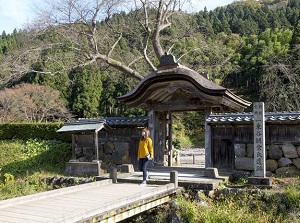 Karamon gate of Asakura Residence
Photo by Fukui Prefectual Tourism Federation
Ichijodani River flows through this valley from south to north, and the city area is surrounded with mountains.
The northern side is the mouth of the valley and the only entrance to the city area, but large Asuwa River flows.
So this city had been defended against the enemies by these natural barriers.
The length of the city area is about 2 km.
And there were the earthen walls and the gates at the north and south edges.
The restored castle town is on the west side of the river.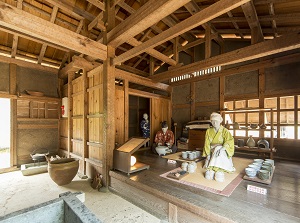 Restored house in Ichijodani
Photo by Fukui Prefectual Tourism Federation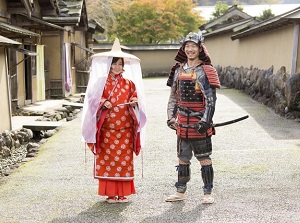 Experience of dressing in the 16th century
Photo by Fukui Prefectual Tourism Federation
On the east side, there is the ruin of Asakura Clan Residence.
Around Asakura Clan Residence, there are a few restored Japanese gardens.
And, there is Karamon gate near the Residence, and it was built in the 18th century.
On the top of eastern mountain (473 meters high), there is the ruin of Ichijodani Castle.
When you tour around here, you should take 1 to 2 hours.
By the way, Fukui city warns travellers to be careful about vipers in the grass.
In addition, there is the museum about this ruin Ichijodani Asakura Family Site Museum to the north of the valley. (Near Ichijodani station of JR Etsumi-Hokusen line)
How to get here
By route bus for Jokyoji or Kanamata, about 25 minutes from Fukui station to Asakura-iseki-shiryokan-mae (Museum), or Fukugen-machinami stops (Resored town).
The bus is operated every 2 to 3 hours.
Or, by local train of JR Etsumi-Hokusen Line, about 17 minutes from Fukui station to Ichijodani station.
About 2 km walk from Ichijodani station.
The train is operated every 2 to 4 hours.
Ichijodani station has no staff.
And local people have provided some free rental bicycles for visitors.
Other Tourist Attractions in Fukui Prefecture