Echizen Washi Village [
越前和紙の里

]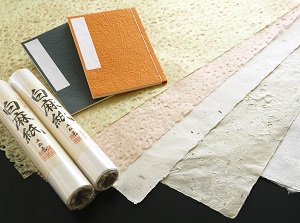 Echizen Washi
Photo by Fukui Prefectual Tourism Federation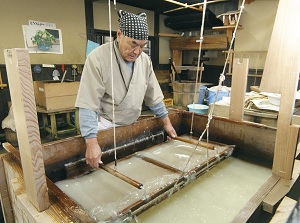 Work to make Washi
Photo by Fukui Prefectual Tourism Federation
Echizen Washi Village ("Echizen Washi no Sato" in Japanese") is at the foot of the mountain in Echizen city.
It is located about 7 km east of JR Takefu station and about 17 km south of the center of Fukui city.
Washi is traditional Japanese paper.
It is made of the fibers in the wood of Kozo (Paper mulberry), Mitsumata (Oriental paperbush), Ganpi (Diplomorpha sikokiana), etc.
The fiber is far longer than pulp for standard paper, so Washi has strong tensility and doesn't deteriorate in quality for a long time.
But Washi is besically produced by hand.
So it has low production and the price is expensive.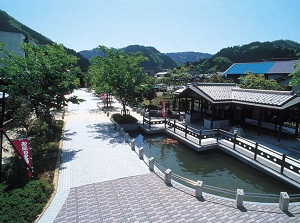 Main street of Echizen Washi no Sato
Photo by Fukui Prefectual Tourism Federation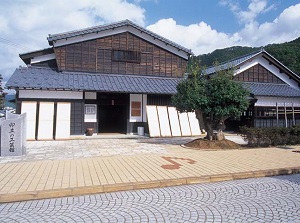 Udatsu Paper and Craft Museum
Photo by Fukui Prefectual Tourism Federation
It is estimated that the production of paper in Japan started around the 5th century and the production in this area started in the early 6th century.
In Fukui Prefecture, five villages in Echizen city are the production center.
The paper producing in the villages is called Echizen Washi.
This area has the largest production of Washi in Japan.
Echizen Washi Village is in the center of the area introducing Echizen Washi, and there are the museum, a workshop by the craftsmen (Udatsu Paper & Craft Museum), and an experience facility to make the paper (Papyrus House).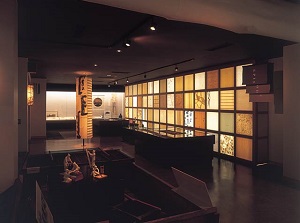 Museum of Echizen Washi
Photo by Fukui Prefectual Tourism Federation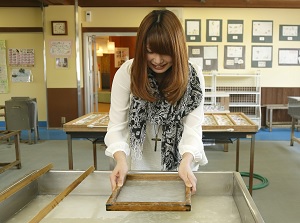 Experience to make Washi
Photo by Fukui Prefectual Tourism Federation
These facilities are placed along a main street about 230 meters long. You can see and know Echizen Washi in the facility.
And the southeastern area is also the villages of Washi, and you can see the old town with Washi workshops.
How to get here
By JR Hokuriku Line, get off at Takefu station.
By limited express, about 15 minutes from Fukui, about 1 hour and 10 minutes from Kanazawa.
Then by route bus, about 30 minutes from Takefu station.
Hotels around Sabae city
Other Tourist Attractions in Fukui Prefecture