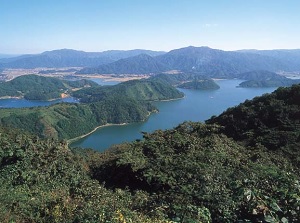 Mikata-goko
Photo by Fukui Prefectual Tourism Federation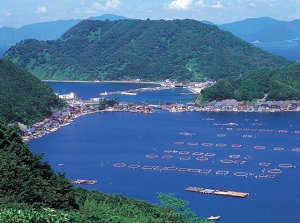 Mikata-goko
Photo by Fukui Prefectual Tourism Federation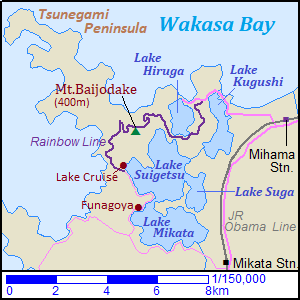 Mikata-goko is five small lakes around Mikata district.
It is located about 20 km west-southwest of Tsuruga city, and about 15 km northeast of Obama city.
"Goko" means "five lakes".
About 20,000 years ago, these were the inland lakes.
Because of rise of the sea level, current lakes were formed near Wakasa Bay several thousand years ago.
All lakes are connected with a narrow channel or a canal.
The lakes are the followings.
Lake Mikata (

三方湖

) : (Width) 3.56 sq km, (Depth) 5.8 m, Fresh water
Lake Suigetsu (

水月湖

) : (W) 4.16 sq km, (D) 34.0 m, Brackish water
Lake Suga (

菅湖

) : (W) 0.91 sq km, (D) 13.0 m, Brackish water
Lake Kugushi (

久々子湖

) : (W) 1.40 sq km, (D) 2.5 m, Brackish water
Lake Hiruga (

日向湖

) : (W) 0.92 sq km, (D) 38.5 m, Ocean water
Lake Kugushi and Lake Hiruga are connected with Wakasa Bay.
Urami Canal connecting Lake Suigetsu and Lake Kugushi was constructed by artificial means in 1664.
And Lake Suigetsu and Lake Hiruga were connected with an underground waterway constructed in 1934, but it is always closed to avoid the water quality change.
All lakes have different concentrations of salt.
Of course, the nearer the sea, the higher the concentration.
But deep Lake Suigetsu is unique.
The layer from the surface to about 6 meters deep has freshwater, but the deeper layer has oxygen-free brackish containing hydrogen sulfide.
Mikata-goko has been inscribed as a registered wetlands under the Ramsar Convention in 2005.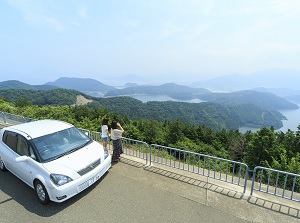 Mikata-goko Rainbow Line
Photo by Fukui Prefectual Tourism Federation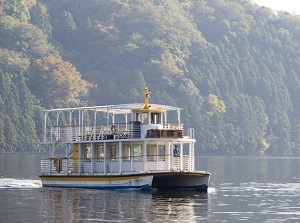 Lake Cruise of Mikata-goko
Photo by Fukui Prefectual Tourism Federation
To enjoy the scenery of these lakes, we can use a scenic road and a pleasure boat.
The scenic road is Mikata-goko Rainbow Line, and runs on the ridge of the mountains in the north side of Mikata-goko area.
The total length is about 11.2 km.
There is Mount Baijôdake (梅丈岳, 400 m) to the north of Lake Suigetsu.
On the top of the mountain, there is the park of the observatory.
We can see the lakes of Mikata-goko and Wakasa Bay.
The pleasure boat "Lake Cruise" starts from the western lakeside of Lake Suigetsu every 1.5 hours.
The boarding point is near the western exit of Mikata-goko Rainbow Line.
The boat cruises Lake Suigetsu and Lake Suga.
It takes about 40 minutes.
Around Mikata-goko, ume (Japanese apricot) are cultivated.
There are about 70,000 ume trees around Mikata-goko
Beautiful ume blossoms are full from late February to early March, and the fruits of ume are harvested in June.
And umeboshi (pickled ume fruits) and the other ume products are sold around this area.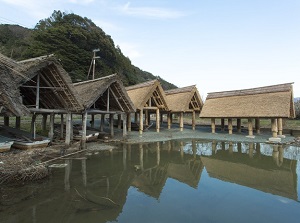 Funagoya
Photo by Fukui Prefectual Tourism Federation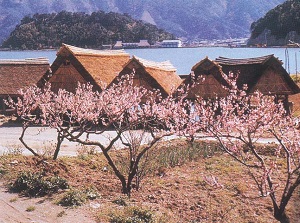 Ume trees and Funagoya
Photo by Fukui Prefectual Tourism Federation
Funagoya (舟小屋) is a small raised-floor hut with a thatched roof on the lakeside.
Traditionally, the ume farmers carried harvested ume fruits by boat, and Funagoya was the boat house.
There are remaining Funagoya on the western side of Lake Mikata.
You can see the old facilities.
How to get here
By JR Obama Line, get off at Mihama station. About 22 minutes from Tsuruga.
But, no route bus is operated for visitors in this area.
So you need to use a taxi or a rental car from Mihama station.
Hotels around Mihama town
Other Tourist Attractions in Fukui Prefecture