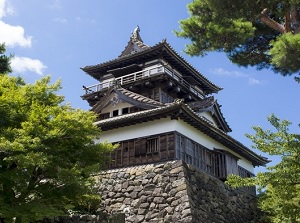 Maruoka Castle
Photo by Fukui Prefectual Tourism Federation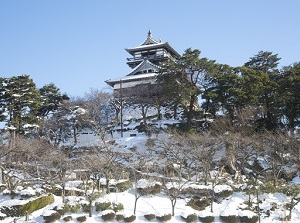 Maruoka Castle in winter
Photo by Fukui Prefectual Tourism Federation
Maruoka Castle is located in Sakai city about 10 km north-northeast of the center of Fukui city.
This castle is one of the 12 castles that original buildings are kept.
So it has been designated as a nationally important cultural property.
The castle was constructed by Katsutoyo Shibata in 1576.
His uncle was Katsuie Shibata and he was a retainer of Nobunaga Oda who united a whole country first as samurai.
But, until the 1620s, the lord of the castle often changed during dynamic changes of the nation.
During Edo Period (1603-1868), the castle was the center of this town by stabilization of the nation.
After establishment of modern Meiji Government, most feudal castles were demolished.
In 1871, this castle was also demolished.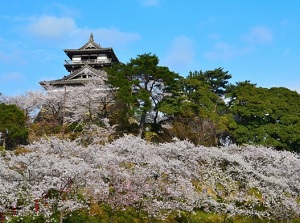 Maruoka Castle in spring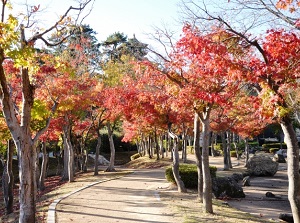 Maruoka Castle in autumn
Fortunately, only the castle tower in the site escaped demolition because Maruoka town bought this building.
But, in 1948, the great earthquake occured around Fukui area and the castle tower fell dawn.
After that, the castle tower was restored by using original components in 1955.
According to recent investigations, it became clear that the original castle tower was built between 1624 and 1644.
The height of the castle tower is about 35 meters including the stone wall.
And it is a three-story building.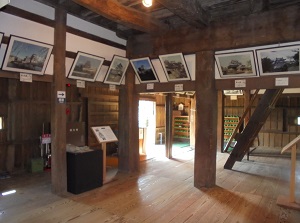 Inside of Maruoka Castle/p>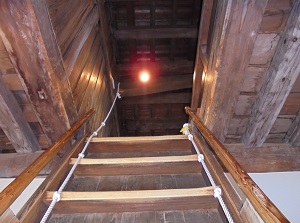 Steep stairs in Maruoka Castle
We can enter the inside of the castle.
The stairs are extremely steep, so you must climb grasping a rope.
(Because, Japanese castle was basically a fort.)
There is a park around this castle.
And about 400 cherry trees are planted and it is known for the magnificent cherry blossoms.
How to get here
By route bus, about 50 minutes from Fukui station to Maruokajo stop.
Other Tourist Attractions in Fukui Prefecture