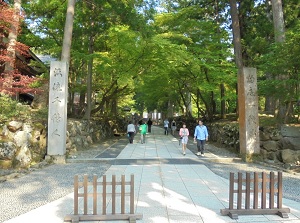 Entrance of Eiheiji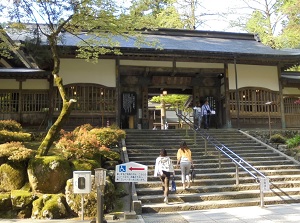 Main gate to Kichijokaku in Eiheiji
Eiheiji is one of the head temples of the Soto sect of Zen Buddhism.
It is located about 12 km east of Fukui city.
This temple was founded by Priest Dogen (1200-1253).
When he was 14 years old, he became a Buddhist priest in Enryakuji temple in Kyoto.
But his thought of Buddhism was different from any other sects, so he studied abroad in China to know the real Buddhism.
After the training in China for 5 years, he came back to Kyoto in 1228.
And he founded a temple in Kyoto.
But he was persecuted by the other sects.
Meanwhile, he was invited to Echizen area by a warlord of his supporter and he left Kyoto.
He founded this temple in 1244, and it was named as "Eiheiji".
Since that, this temple has been received the faith by the people for a long time.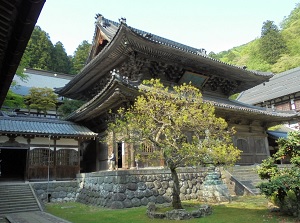 Butsuden in Eiheiji

Karamon gate in Eiheiji
Eiheiji is located in a narrow valley in a mountain.
The precincts are surrounded with the forests with the large trees several hundred years old.
There are over 70 buildings on the slope and most of them are connected by corridors.
So, the priests and visitors can move to most buildings without getting wet with rain and snow.
Now, about 200 Zen priests perform the ascetic practices in Eiheiji.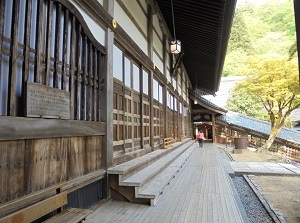 Hattou in Eiheiji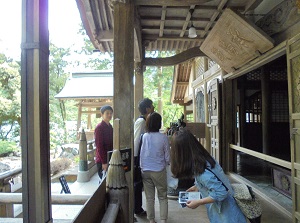 Joyoden in Eiheiji
Tourists enter Kichijokaku building (吉祥閣), first.
It is the central office with training facility.
Tourists receive an explanation of touring the temple from the priest in a room. (In Japanese)
After that, tourists can tour the temple along a regular route freely.
At that time, you must walk after taking off your shoes. (in stockinged feet, or in the slippers prepared for tourist)
The corridors may be slippery because they have wooden floors and have many slopes and stairs.
And, you can take a photo in the temple, but you aren't allowed to take a photo of the priests.
Sanshôkaku (傘松閣) is a hall built in 1930, and 230 pictures painted on the ceiling are beautiful.
Soudou (僧堂) is a building that the priests train Zen meditation.
Butsuden (仏殿) is the temple located in the center of the temple.
Hattou (法堂) is the innermost building and is the temple that various Buddhist ceremonies are held.
Jôyôden (承陽殿) was built in 1881, and is the mausoleum of Dogen.
These are the main buildings.
It takes about 40 to 60 minutes to tour around the regular route.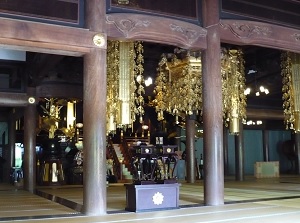 Inside of Hattou in Eiheiji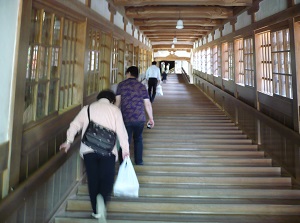 Corridor on the slope in Eiheiji
In this temple, you can experience training of Zen meditation.
One-hour training is an experience of Zen meditation and the priest teaches you.
And in One-night training, you stay overnight in the temple and join Zen meditation in the evening and in the early morning.
In addition, two-days and four-days trainings are conducted.
Soto sect emphasizes cooking and meal for the preists.
Each of them is also one of the important practices.
So, Eiheiji is known for its Buddhist cuisine ("Shojin-ryori" in Japanese) like vegetarianism.
There is small temple town before Eiheiji, and some restaurants in the town serve Shojin-ryori.
How to get here
By Echizen Railway, 25 minutes from Fukui station to Eiheiji-guchi.
Then, by route bus, 14 minutes from Eiheiji-guchi station to Eiheiji.
Or, by express bus, about 30 minutes from Fukui station.
It is operated every about an hour.
Hotels in Fukui city
Other Tourist Attractions in Fukui Prefecture