Echizen Takeningyo no Sato [
越前竹人形の里

]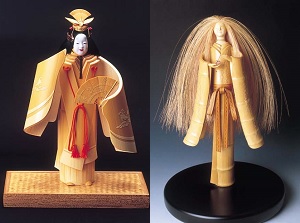 Echizen Takeningyo
Photo by Fukui Prefectual Tourism Federation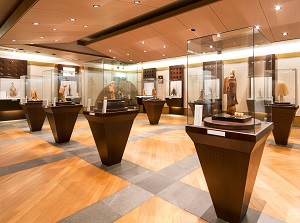 Art museum in Echizen Takeningyo no Sato
Photo by Fukui Prefectual Tourism Federation
Echizen Takeningyo no Sato (Echizen Bamboo Doll Village) is located about 10 km northeast of the center of Fukui city and in Sakai city.
And there is Eiheiji temple about 8 km south of this spot.
"Echizen Takeningyo" is a doll made of bamboo in Echizen area.
Baskets, vases and the other livingwares have been made of bamboo in Fukui Prefecture since a long time ago.
In the 1950s, a few artists created the doll using remaining bamboo after making the utensils.
The doll won some prizes, then it became one of the famous artifacts in Fukui Prefecture.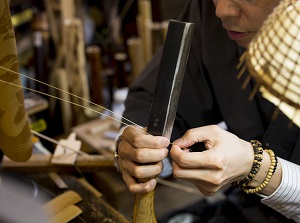 Making bamboo strings
Photo by Fukui Prefectual Tourism Federation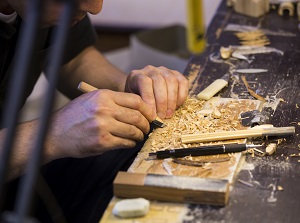 Making the parts of a doll
Photo by Fukui Prefectual Tourism Federation
The doll is not simple, but rather is close to a modern art.
The subject matter of the works is mostly the character in legend, Noh, Kabuki, etc. in this region.
Characteristics of the works is extremely delicate hairs of the doll.
Bamboo is split less than 0.2 millimeters thin and 5,000 to 7,000 bamboo strings are used for a doll as the hairs.
Echizen Takeningyo no Sato is a commercial facility.
There are a workshop of the doll and the art museum in the facility.
And there are the souvenir shop and restaurant.
How to get here
By Echizen Railway, 25 minutes from Fukui station to Eiheiji-guchi.
Then, by route bus for Awara-onsen, about 5 minutes from Eiheiji-guchi station to Echizen Takeningyo no Sato stop.
The bus is operated every 2 hours.
The distance between Eiheiji-guchi and Echizen Takeningyo no Sato is about 1.6 km.
So if you walk on the route, it takes about 25 minutes.
Hotels around Sabae city
Other Tourist Attractions in Fukui Prefecture