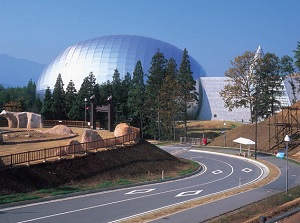 Dinosaur Museum
Photo by Fukui Prefectual Tourism Federation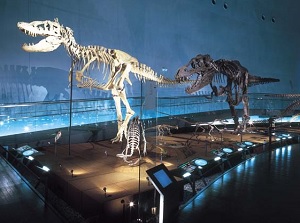 Skeleton of a dinosaur
Photo by Fukui Prefectual Tourism Federation
Dinosaur Museum is literally the museum about dinosaur.
It is located about 3 km north of central Katsuyama city, and about 25 km east of the center of Fukui city.
The formal name is "Fukui Prefectural Dinosaur Museum".
In 1982, fossils of crocodile in Cretaceous period (145 to 65 million years ago) were discovered around this area.
Since 1988, the excavation had been done.
Then, a lot of fossils of dinosaur were found.
They were in good preservation.
The amount of the fossils found in this area is more than 80 percent of the fossils found in whole Japan.
This museum was founded to display the fossils and to reserch dinosaur in 2000.
The unique and modern buildings of this museum were designed by Kurokawa Kisho (1934-2007), who was a worldwide architect and designed Kuala Lumpur International Airport (1998, Malaysia), The Exhibition Wing of Van Gogh Museum (1999, Amsterdam), etc.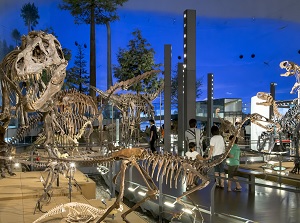 Inside of Dinosaur Museum
Photo by Fukui Prefectual Tourism Federation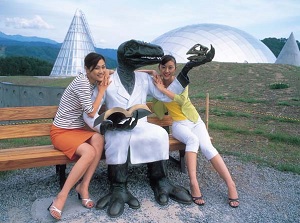 You can take a photo with dinosaur
Photo by Fukui Prefectual Tourism Federation
This museum houses more than 40 thousand articles.
Six real skeletons of dinosaur and over 20 skeleton models are always diplayed.
And the history of earth and biological evolution are introduced.
How to get here
From Fukui station, by Echizen Railway Line, about 1 hour to Katsuyama terminal staion.
From Katsuyama station, by Katsuyama Community Bus, about 12 to 15 minutes to the museum.
Most buses are connected with the trains.
Hotels around Katsuyama city
Other Tourist Attractions in Fukui Prefecture