Sanchomachi district [
三丁町

]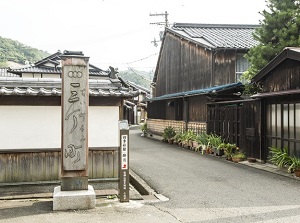 Entrance of Sanchomachi
Photo by Fukui Prefectual Tourism Federation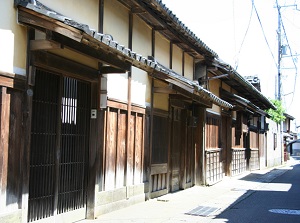 Old houses in Sanchomachi
Photo by Fukui Prefectual Tourism Federation
Sanchomachi is a district with many old buildings and houses.
"O" in the word is pronounced long, so it is read as "Sanchômachi".
It is located near the west end of Obama Nishigumi area which is the western part of Obama castle town.
It is about 1.3 km west of JR Obama station.
It was a Geisha town since around the 18th century and it is said that the town was constructed after the model of Gion in Kyoto.
Geisha is the female entertainer in the room of high-class Japanese-restaurant.
She entertains the guests and performs Japanese classical music and dance in front of the guests.
Along the narrow street, there are many traditional wooden houses.
The length is about 250 meters.
The historic and attractive streets has been preserved.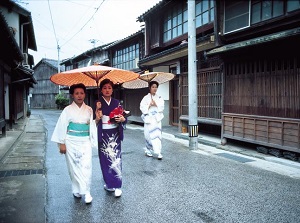 Geisha in Sanchomachi
Photo by Fukui Prefectual Tourism Federation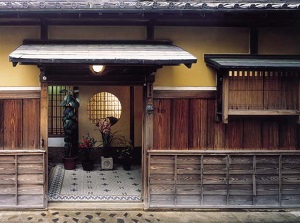 Entrance of Hotoro
Photo by Fukui Prefectual Tourism Federation
Many Japanese restaurants with Geisha were in this district.
But now, only one restaurant Harima is opened in this town.
The English website is available.
You may be able to experience the entertainment of Geisha.
A former restaurant Hôtôrô (蓬嶋楼) is open to the public.
The two-story wooden house was built in 1868.
A wide room for party is on the ground floor, and two guest rooms are on the second.
This is opened only on Saturaday and Sunday.
In addition, a few houses are renovated into inns.
You can stay in the traditional house.
How to get here
About 1.3 km walk from JR Obama station.
Hotels around Obama city
Other Tourist Attractions in Obama
Obama Nishigumi area
Southern suburb
Southeastern suburb
Waterfront area
Northern suburb