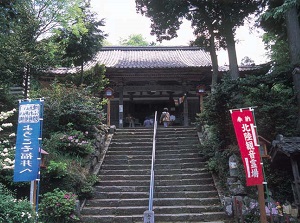 Tadaji
Photo by Fukui Prefectual Tourism Federation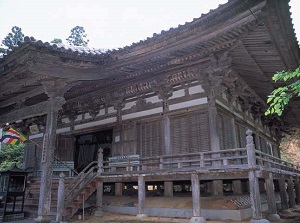 Main temple of Tadaji
Photo by Fukui Prefectual Tourism Federation
Tadaji is a Buddhist temple of Shingon Buddhism which is one of major Japanese Buddhism.
It is located about 3 km southeast of Obama station.
It is said that this temple was founded at the order of Empress Koken in 749.
It became a major temple, but suffered a fire in the 17th century.
Current main temple was rebuilt in 1807.
In the center of the main temple, there is a miniature shrine donated by the Lord of Obama Domain in 1634.
And three statues of Buddha are enshrined.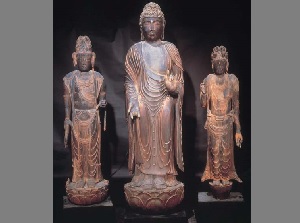 Yakushi Nyorai, Nikko & Gakko Bosatsu
Photo by Fukui Prefectual Tourism Federation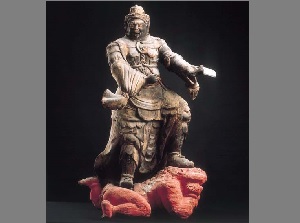 One of other statues in Tadaji
Photo by Fukui Prefectual Tourism Federation
The central statue is Yakushi Nyorai (薬師如来) created around the early 9th century. The height is about 2 meters and it is the principal image of this temple.
Yakushi Nyorai is a Buddha who cures a disease.
Especially, it is said that Yakushi Nyorai in this temple cures eye disease.
And, Nikko Bosatsu (日光菩薩) on the left side and Gakko Bosatsu (月光菩薩) on the right side stand.
These are about 1.5 meters tall and it is estimeted these were created around the 9th century.
Around the miniature shrine, several other statues are put.
How to get here
Run for 3 km by rental bicycle or car from Obama station.
Or, a route bus for Omi-Imazu runs from Obama station.
Get off at Kizakibashi stop. About 5 minutes from Obama station.
Then, about 800 meters walk.
Hotels around Obama city
Other Tourist Attractions in Obama
Obama Nishigumi area
Southern suburb
Southeastern suburb
Waterfront area
Northern suburb