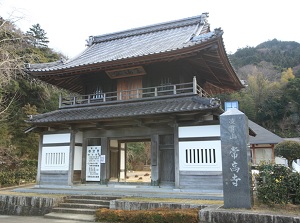 Entrance gate of Jokoji
Photo by Fukui Prefectual Tourism Federation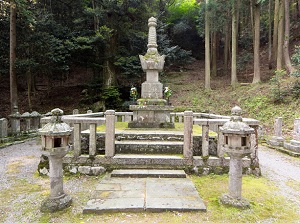 Tomb of Jokoin
Photo by Fukui Prefectual Tourism Federation
Jokoji is a Buddhist temple of Rinzai Zen sect.
Both "o"s in the word are pronounced long, so it is read as "Jôkôji".
It is located to the southwest part of Obama Nishigumi area at the foot of a hill.
It is about 1.2 km west of Obama station.
This temple was founded by Nun Jôkôin in 1630.
She was a wife of Kyogoku Takatsugu (1563-1609) who was the Lord of Obama Domain.
After Takatsugu died, she became a nun and built the temple for the memorial service of her family.
She had lived in Edo (current Tokyo) in her last days.
After she died in 1633, her remains were send for a long distance from Edo to Obama (over 450 km).
Then, she was buried in this temple.
There is her tomb in the precincts.
The main hall of the temple was destroyed by fire in 1923, and the main gate was also burned down in 1964.
So this temple became a ruin.
Because of the temple with a long history, it was restored in 2001.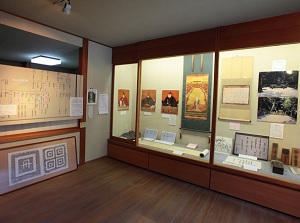 Exhibition room in Jokoji
Photo by Fukui Prefectual Tourism Federation
There is an exhibition room for the cultural assets in this temple.
Letter written by Jokoin, pictures drawn by Kano Family (great painters from the 15th to the 19th centuries), etc. remain and they are displayed in the room.
And there is an iris garden in the precincts.
The best season of the iris is from the beginning to the middle of June.
How to get here
About 1.3 km walk from JR Obama station.
About 0.5 km walk from Kuuinji temple.
Hotels around Obama city
Other Tourist Attractions in Obama
Obama Nishigumi area
Southern suburb
Southeastern suburb
Waterfront area
Northern suburb