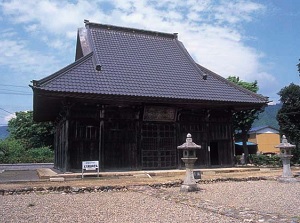 Shakado in Kokubunji
Photo by Fukui Prefectual Tourism Federation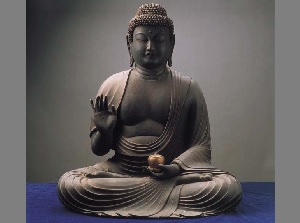 Yakushi Nyorai of Kokubunji
Photo by Fukui Prefectual Tourism Federation
Kokubunji is a Buddhist temple of Soto Zen sect.
It is located about 1 km southeast of Higashi-Obama station.
And it is about 4.5 km east of Obama station.
"Kokubunji" was built in each area in Japan by order of Emperor Shomu in 741.
This temple is often called "Wakasa-Kokubunji" because it was built in Wakasa area.
It is estimated that this temple was built in the beginning of the 9th century.
And it was confirmed that the site was 280 meters square at that time.
But, it is thought that this temple had declined since the 14th century.
So, most of the temple's site are ramains.
Now, Shakadô (釈迦堂) built around 1705 and small Yakushidô (薬師堂) are in the site.
In Shakadô, there is a big statue of Shaka Nyorai (釈迦如来).
The height is about 3.2 meters and it is thought that it was created around the 13th century.
In Yakushidô, there is a statue of Yakushi Nyorai (薬師如来).
It is small and the height is about 80 centimeters, and it is thought that it was created in the 13th or 14th century.
But the figure is very beautiful and elegant.
How to get here
Run for 1 km by rental bicycle or car from Higashi-Obama station.
Or, a route bus for Omi-Imazu runs from Obama station.
Get off at Wakasa-Kokubu stop. About 8 minutes from Obama station.
Then, about 100 meters walk.
Hotels around Obama city
Other Tourist Attractions in Obama
Obama Nishigumi area
Southern suburb
Southeastern suburb
Waterfront area
Northern suburb