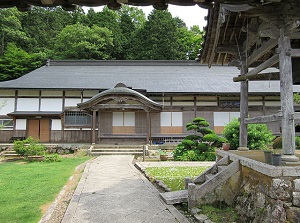 Main Hall of Enshoji,
Photo by Opqr [Public domain],
via Wikimedia Commons, CC-BY-SA-4.0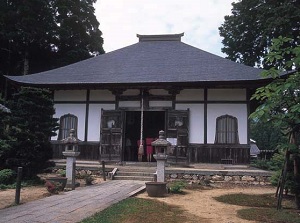 Dainichido in Enshoji
Photo by Fukui Prefectual Tourism Federation
Enshoji is a Buddhist temple of Rinzai Zen sect.
"O" in the word is pronounced long, so it is read as "Enshôji".
It is located about 4.5 km south of Obama station.
And it is about 1.3 km from Myorakuji.
Around the early 12th century, an statue of the Buddha called Dainichi Nyorai (大日如来) was created and it was enshrined in a temple to the north of current Enshoji.
But the temple were damaged by the flood, then the statue of the Buddha was moved to this Enshoji temple in 1444.
There is a few buildings in the precincts.
The statue of Dainichi Nyorai is enshrined in Dainichidô (大日堂) rebuilt in 1759.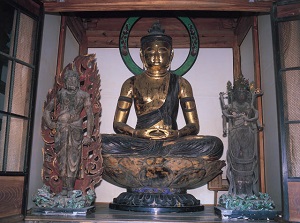 Three Buddha statues in Dainichido
Photo by Fukui Prefectual Tourism Federation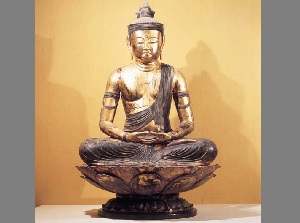 Dainichi Nyorai at the time of opening
Photo by Fukui Prefectual Tourism Federation
There are three statues in Dainichido, and big Dainichi Nyorai stands in the center.
The height of the statue is about 2.5 meters, and is one of the biggest statues in Hokuriku Region.
And it is said that gold foils were coated when it was repaired in the 18th or 19th century.
You can worship it from the outside.
In addition, this temple has an old Japanese garden constructed in the early 17th century.
It has been almost integrated into a natural scenery.
There is a pond in the garden, and "Forest green tree frogs" which are decreasing in number live around the garden.
How to get here
Run for 4.5 km by rental bicycle or car from Obama station.
Hotels around Obama city
Other Tourist Attractions in Obama
Obama Nishigumi area
Southern suburb
Southeastern suburb
Waterfront area
Northern suburb