Wakasa-hiko Shrine, Wakasa-hime Shrine [
若狭彦神社, 若狭姫神社

]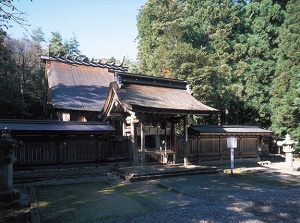 Wakasa-hiko Shrine
Photo by Fukui Prefectual Tourism Federation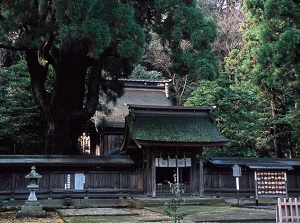 Wakasa-hime Shrine
Photo by Fukui Prefectual Tourism Federation
Wakasa-hiko Shrine and Wakasa-hime Shrine are Shinto Shrines.
Wakasa-hiko Shrine is located about 2.2 km south of Higashi-Obama station, and it is about 600 meters southwest of Mantokuji temple.
Wakasa-hime Shrine is located anout 1.5 km north of Wakasa-hiko, and it is about 700 meters south of Higashi-Obama station.
In addition, there is Jinguji temple (神宮寺) related to Wakasa-hiko Shrine about 1 km south of the shrine.
These enshrine a couple of sea god in Japanese myth.
The husband is enshrined in Wakasa-hiko Shrine, and the wife is enshrined in Wakasa-hime Shrine.
Wakasa-hiko Shrine was founded first in 714, then Wakasa-hime Shrine was founded as a branch shrine in 721.
Now, Shinto priests are stationed only in Wakasa-hime Shrine.
The works and festivals as Shinto shrine are mainly performed in Wakasa-hime Shrine.
Omizu-okuri (
お水送り

)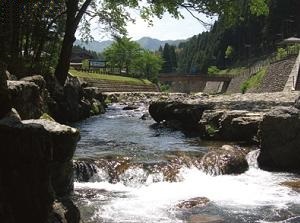 Unose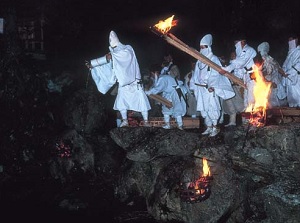 Omizu-okuri at Unose
Photo by Fukui Prefectual Tourism Federation
In March 12, famous festival Omizu-tori (お水取り) is held at Nigatsudo in Todaiji temple (東大寺) in Nara.
Before the festival, this Omizu-okuri is held as the main festival of Wakasa-hiko Shrine on March 2.
Shinto rituals are held in Shimonegori Shrine in the morning.
It is located about 4 km south of Wakasa-hiko Shrine.
Then the Buddhist ceremony named Shunie is held in Jinguji temple in the afternoon.
And Omizu-okuri ceremony is started at 18:00.
Many priests holding a torche parade to Unose (鵜の瀬).
Onyuu River flows near above shrines and Jinguji, and Unose is a riverside place about 2 km away from Jinguji.
The chief priest pours sacred water into the river.
It is said that the water reaches a well in Todaiji in Nara after 10 days, and the water in the well are used in Omizu-tori festival.
Todaiji is 90 km south of this area.
How to get here
Run for 0.7 km to Wakasa-hime Shrine, 2.2 km to Wakasa-hiko Shrine by rental bicycle or car from Higashi-Obama station.
Hotels around Obama city
Other Tourist Attractions in Obama
Obama Nishigumi area
Southern suburb
Southeastern suburb
Waterfront area
Northern suburb