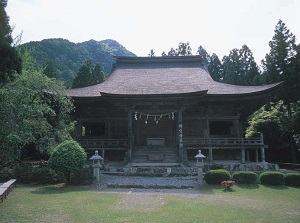 Main temple of Jinguji
Photo by Fukui Prefectual Tourism Federation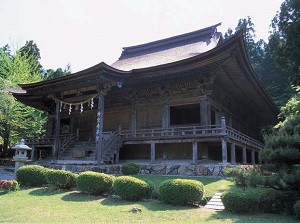 Main temple of Jinguji
Photo by Fukui Prefectual Tourism Federation
Jinguji is a Buddhist temple located about 5 km southeast of Obama station.
"U" in the word is pronounced long, so it is read as "Jingûji".
It is located about 1 km south of Wakasa-hiko Shrine.
This temple was founded as the temple attached to Wakasa-hiko Shrine in 714.
Since that, it had been the central temple in this area.
Shinto and Buddhism are different religions in Japan, but both have been believed by Japanese people.
Jinguji and Wakasa-hiko Shrine were completely linked as religious facility in this period.
On March 2, Omizu-okuri festival of Wakasa-hiko Shrine is held in this shrine.
Niomon gate was built around the early 14th century.
There are a pair of "Kongo Rikishi" statues which are the guardian deities of the temple.
The main temple was rebuilt in 1553.
Both buildings are designated as national important cultural properties.
How to get here
Run for 1 km from Wakasa-hiko Shrine, 5 km from Higashi-Obama station by rental bicycle or car.
Hotels around Obama city
Other Tourist Attractions in Obama
Obama Nishigumi area
Southern suburb
Southeastern suburb
Waterfront area
Northern suburb