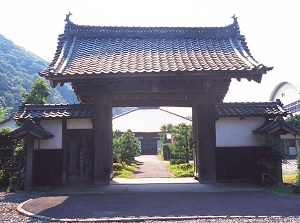 Entrance gate of Kuuinji
Photo by Fukui Prefectual Tourism Federation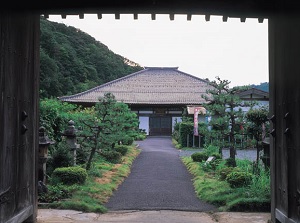 Main temple of Kuuinji
Photo by Fukui Prefectual Tourism Federation
Kuuinji is a Buddhist temple of Soto Zen sect.
It is located to the south part of Obama Nishigumi area at the foot of a hill.
It is about 0.8 km west of Obama station.
Originally, a residence of the officer in this area was built in this site in 1522.
It is said that the residence was similar to a fort with a moat.
After the foundation of Edo Government (1603), a Buddhist temple was founded in this site.
Then, the temple became Kuuinji in 1688.
There is a cave at the foot of the hill in the site.
It is called Cave that Nun Yaobikuni fell into deep meditation.
There is a legend about this cave.
In the 7th century, a rich man was invited a party held in a foreigner's residence.
By chance, he saw two chefs cooking a "mermaid".
After that, the dish of mermaid was served but he couldn't eat it because it is uncanny.
The foreigner made him bring the dish back to his home as a souvenir.
After he returned home, his daugter 16 years old was interested in the unique dish and had eaten all of the dish.
The dish was very delicious.
By the dish of "mermaid", she had become immortal.
So, she never grew older.
During several decades, her parents, relatives, friends and acquaintances died, but she was still a young girl.
She became a nun named Bikuni when she was 120 years old.
And she walked to preach Buddha's teaching throughout Japan.
When 800 years had passed, she returned in Obama.
And, she entered the cave and fell into deep meditation in the cave to live eternally.
In old Japanese, "800" is called as "Yao", so she is called "Yaobikuni".
She liked camellia and planted some camellias around the cave.
Before she entered the cave, she said to the people, "If these camellias are dead, please think that I am also dead."
But it is said that the camellias bloom even now.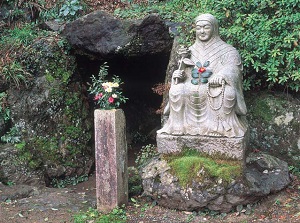 Cave of Yaobikuni & enshrined camellias
Photo by Fukui Prefectual Tourism Federation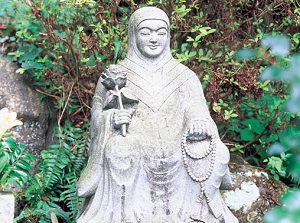 Statue of Yaobikuni having a camellia
Photo by Fukui Prefectual Tourism Federation
The cave is small and the depth is only some meters.
There is nothing in the cave now. (But there may be her soul...)
A stone statue of Yaobikuni with camellia is set up in front of the cave.
How to get here
About 15 minutes walk from JR Obama station.
Other Tourist Attractions in Obama
Obama Nishigumi area
Southern suburb
Southeastern suburb
Waterfront area
Northern suburb