Tourist Attractions in Nagoya
Nagoya is the prefectural capital of Aichi Prefecture, and is also the central city of Tokai District.
It has a population of 2.3 million people, and is the fourth largest city in Japan, after Tokyo, Yokohama and Osaka.
Unlike Tokyo and Osaka areas, small cities are dotted around Nagoya.
So, densely populated area is only inside Nagoya city in this area.
Oda Nobunaga was born in a northwestern suburb of current Nagoya in 1534.
Toyotomi Hideyoshi was born in the western part of Nagoya in 1537.
Tokugawa Ieyasu was born in Okazaki Castle about 40 km southeast of Nagoya in 1543.
They battled in the time of wars, and took the reins of the government of Japan in order.
At last, Ieyasu founded Edo Government in current Tokyo in 1603, and led Japan to steady feudal nation.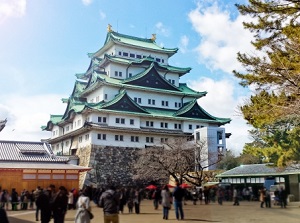 Nagoya Castle
Ieyasu built Nagoya Castle in the current place in 1610.
And the castle town was constructed to the south of the castle.
That is the center of current Nagoya.
Nagoya became a big city until the early 20th century.
But, at the end of World War II (1944-45), the whole areas in Nagoya had been destroyed by US air raids several times.
Most historical buildings including Nagoya Castle were lost.
After the war, modern and practical city was constructed with wide roads.
Therefore, it is said that Nagoya is not so attractive city.
Nagoya is a big city for business, and there are the head and branch offices of many companies.
The town around Nagoya station is the busiest place, and there are many offices, hotels, department stores, cafes, restaurants and mass sale shops.
And Sakae distlict about 2 km east of Nagoya station has been the main shopping area in Nagoya.
By the way, many Nagoya people sometimes have a breakfast in any cafe.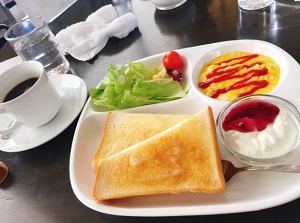 Morning in Nagoya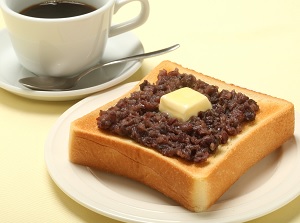 Ogura toast
Photo by Nagoya Convention & Visitors Bureau
"Morning" or "Morning set" is a Japanese word meaning "breakfast special" in cafe.
Many cafes serve the menu until around 11:00.
In Nagoya, toast, boiled egg, salad, dessert, etc. are added to a cup of coffee by paying a little more charge.
Toast topped with sweet paste of red beans is called "Ogura Toast", and is only in Nagoya.
It is said that the cafes in Ichinomiya city about 20 km northwest of Nagoya started this service in the 1950s, and that has spread in Nagoya and the surrounding areas.
Because the cafes compete in the menu, we can enjoy the breakfast very cheaply.
The variety and cheapness around Nagoya area are well-known in Japan.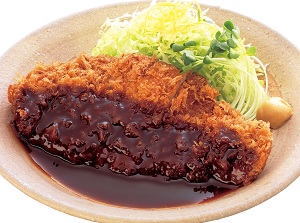 Miso-katsu
Photo by Nagoya Convention & Visitors Bureau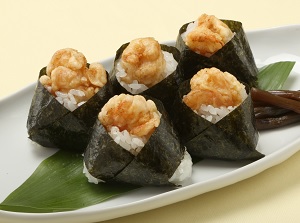 Ten-musu
Photo by Nagoya Convention & Visitors Bureau
And, Nagoya-meshi is popular recently.
It means Nagoya cuisine, and the dishes have mainly thick taste of miso and shoyu.
The base is the same as normal Japanese dish, but they are changed by unique combination.
The popular dishes are Hitsumabushi (eel dish), Miso-nikomi udon (udon with thick miso soup), Miso-katsu (pork cutlet with miso sauce), Ten-musu (rice ball with tenpura of shrimp), Tebasaki (fried chicken wing tip), etc.
To travel in Nagoya city, municipal subway and bus are convenient.
And sightseeing route bus "Me-guru" is operated.
How to get here
By Shinkansen train, to Nagoya, 1 hour and 35 to 55 minutes from Tokyo, 35 minutes from Kyoto, about 50 mintes from Shin-Osaka.
From Fukuoka Airport, by limited express of Meitetsu railway, 30 to 40 minutes.
By express bus, 6 to 7 hours from Tokyo, 3 hours from Osaka.
Other Tourist Attractions in Aichi Prefecture