Noritake-no-Mori [
ノリタケの森

]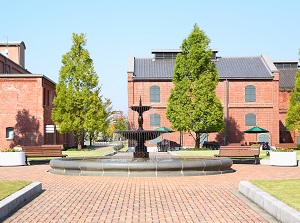 Noritake-no-Mori
Photo by Nagoya Convention & Visitors Bureau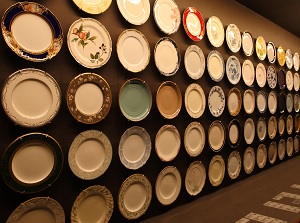 Museum in Noritake-no-Mori
Photo by Nagoya Convention & Visitors Bureau
Noritake-no-Mori (Noritake Garden) is a complex with park, museum and restaurant, cafe and shop.
It is located about 1 km north of Nagoya station.
Originally, there was a factory of the pottery and porcelain maker "Noritake".
This company was established in 1904, and high quality and beautiful ceramic ware has been produced.
Especially, the products exported to Europe until the 1940s are called "Old Noritake" and they are is one of collector's items.
And a subsidiary company of Noritake is a purveyor to the Imperial Household.
After the production was shut down in this factory, this complex was open with using old red-brick buildings in 2001.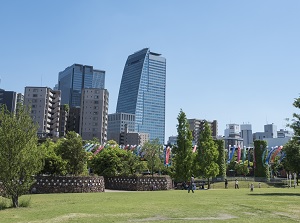 Garden in Noritake-no-Mori
Photo by Nagoya Convention & Visitors Bureau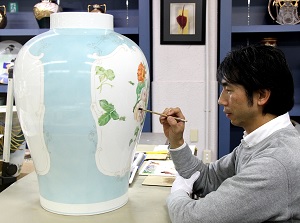 Painting work in the museum
Photo by Nagoya Convention & Visitors Bureau
The site is about 300 meters from north to south and about 100 meters from east to west.
It is a beautiful garden and there are some monuments of factory chimneys in the garden.
In the site, there are a few factory buildings made of red bricks.
In the buildings, there are the museum and gallery of beautiful pottery and porcelain, and the restaurant and cafe using the ceramic ware.
Admission to the garden is usually free, but there is a charge only for visiting the museum.
Basically, it is closed on Monday.
How to get here
By sightseeing route bus "Me-guru", about 8 minutes.
Or, the nearest station of subway is Kamejima (●H07 Higashiyama Line).
About 250 meters from the station.
When walking from Nagoya station, About 15 to 20 minutes.
Hotels in Nagoya
Other Tourist Attractions in Nagoya