SCMAGLEV and Railway Park (Rinia Tetsudokan) [
リニア・鉄道館

]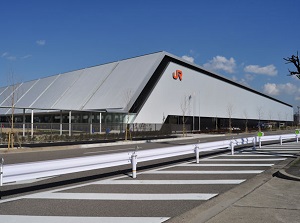 SCMAGLEV & Railway Park
Photo by Railstation.net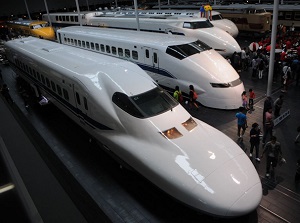 Display of Shinkansen cars
Photo by Railstation.net
SCMAGLEV and Railway Park is a museum about railway in Japan.
It is called "Rinia Tetsudokan" in Japanese.
It is located about 14 km south of Nagoya station, and is on a reclaimed land "Kinjo-futo" in the south part of Nagoya Port.
This museum was established by JR Central company in 2011.
JR Central manages Tokaido Shinkansen (the world's first high-speed railway) connecting Tokyo, Nagoya, Kyoto and Osaka and many railway routes in Tokai Region.
In addition, the company is constructing new high-speed railway between Tokyo and Nagoya.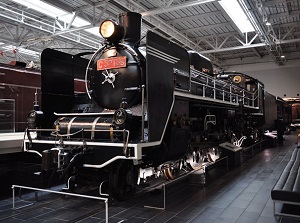 Steam locomotive for Empeor's train
Photo by Railstation.net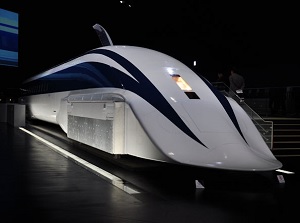 Test car of SCMaglev
Photo by Railstation.net
It is SCMaglev railway and the Japanese name is "Linear Chuo Shinkansen".
The max speed is 500km/h and it will run only in 40 minutes between Tokyo and Nagoya .
(The test train run at a speed of 603km/h.)
SCMaglev is the world's first magnetic levitation railway using "superconducting magnet".
It will complete in 2027.
As above, JR Central is the main company of Japanese high-speed railway.
This museum introduces the history of high-speed railway in Japan.
So, many classic railway vehicles and past Shinkansen cars are displayed.
There is the exhibition room for SCMaglev.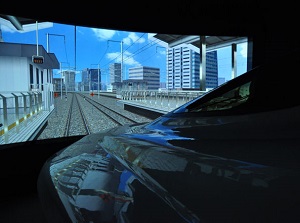 Driving simulator of Shinkansen
Photo by Railstation.net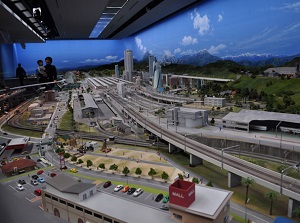 Large railway model diorama
Photo by Railstation.net
Driving simulators of Shinkansen and JR train are popular.
To play them, three modes from easy mode for children to difficult mode are set up.
And, one of the museum's main attractions is Japan's largest railway model diorama.
How to get here
The nearest station of railway is Kinjo-futo (●AN11 Aonami Line).
About 24 minutes from Nagoya station.
Hotels in Nagoya
Other Tourist Attractions in Nagoya