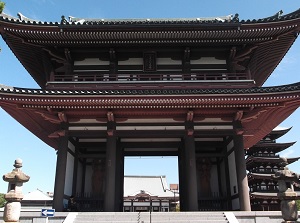 Sanmon gate of Nittaiji
Photo by Nagoya Convention & Visitors Bureau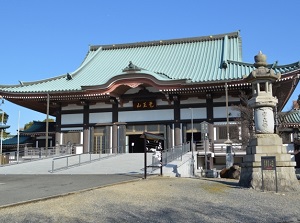 Main temple of Nittaiji
Nittaiji is a Buddhist temple located in Kakuozan district about 7 km east of Nagoya station.
This is a unique temple because it doesn't belong any religious sects of Buddhism.
In 1898, the ash of Buddha (563 B.C.-483 B.C.) was found in India where he had been living by a local government official from Britain.
Britain transferred it to Thailand which had been one of the religious Buddhist countries the following year.
Because, the main religion of India had become Hinduism.
The King of Thailand allocated it to several Buddhist countries in the world, and a part of the ash was presented to Japan in 1900.
In Japan, some cities offered the construction of the new temple for the ash of Buddha.
Nagoya city attracted eagerly and succeeded.
Then, this temple was completed in 1904.
"Nittai" means "Japan and Thailand".
After passing through Sanmon gate, there is a temple precinct.
The main temple was rebuilt in 1984.
There is the principle image of Buddha in the temple, which was also presented by the King of Thailand in 1900.
There is a five-storied pagoda about 30 meters tall.
It was built in 1997.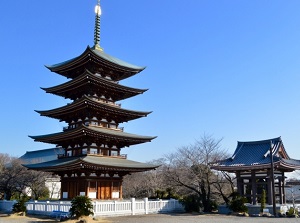 Five-storied pagoda in Nittaiji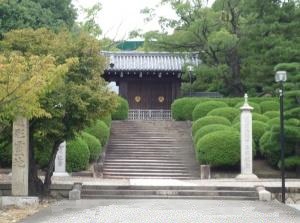 Entrance to Houantou
Unlike common Buddhist temple in Japan, the flags of Thailand are up in the precincts.
And there is the statue of the King of Thailand.
So, this temple has a strong tie with Thailand.
There is another temple precinct about 200 meters northeast.
It is the sacred area, and there is Houantou pagoda about 15 meters tall.
It is the pagoda enshrining the ash of Buddha.
But we can't visit it, but can reach the worship temple at the entrance to the pagoda.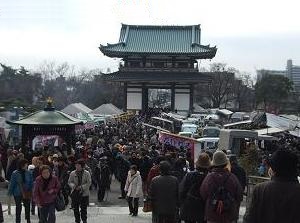 Fair in Nittaiji on the 21st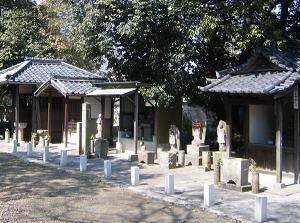 88 temples in Shikoku
The pilgrimage of 88 temples in Shikoku Island is very popular in Japan, but all people cannot tour easily.
So its small copy has been created here by local people.
Of course, each of they has a number between 1 and 88.
It is said that they has the same effect of the pilgrimage of Shikoku.
These are set up around the precincts of Nittaiji
This temple is very valuable but it is not well known throughout Japan.
So it is not crowded.
But, on the 21st of each month, the fair is held in this temple and many local people come to this temple.
The 21st day is the day when High Priest Kuukai was dead in March, 835.
Many stalls are open along the approach to the temple for about 500 meters.
How to get here
The nearest station of subway is Kakuozan (●H15 Higashiyama Line).
Other Tourist Attractions in Nagoya