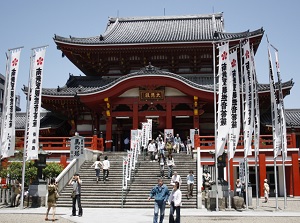 Osu Kannon
Photo by Nagoya Convention & Visitors Bureau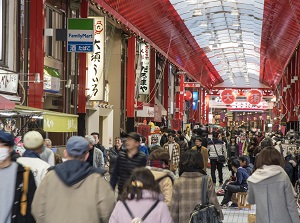 A street in Osu
Photo by Nagoya Convention & Visitors Bureau
Osu is an old shopping district in Nagoya.
"O" is pronounced long. so it is read as "Ôsu".
It is located about 1 to 1.5 km south of Sakae area and about 1.8 to 2.5 km southeast of Nagoya station.
This district is about 700 meters from east to west and about 400 meters from north to south in width, and there is Osu Kannon (大須観音) temple is at the western end of the district.
First, Osu Kannon was founded in Osu district in Hashima city in Gifu Prefecture in 1333.
In 1612, Tokugawa Ieyasu, the founder of Edo Government, moved the temple to current place.
So the name of this district became Osu.
It was destroyed by fire in 1892.
Then, It was destroyed again by the air raid (1945) in the World War II.
The current temple was rebuilt in 1970.
Since the 17th century, many small Buddhist temples had been built in this district.
And inns and shops were also built for the worshippers, and theaters were also constructed.
From the late 19th century to the early 20th century, theaters and comedy houses were built, then Osu became an entertainment district in Nagoya.
But since the 1950s, some department stores were built in Sakae district and Sakae became the popular shopping area.
Osu had been losing popularity.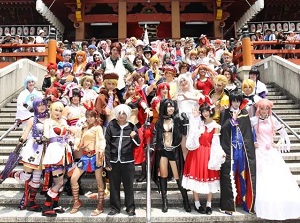 World Cosplay Summit at Osu Kannon
Photo by Aichi Prefectural Tourism Association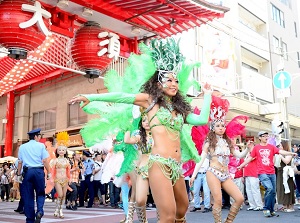 An event in Osu
Photo by Aichi Prefectural Tourism Association
In the 1970s, some university students in Nagoya held a festival for vitalizing Osu.
After that, the shop owners in Osu started the developement of unique town.
First, many electronics shops had been opened in this district.
Osu changed the town like Akihabara in Tokyo.
So young customers returnd here.
Like Akihabara, since the 2000s, several manga and game shops has come, and some maid cafes are open.
From 2003, the World Cosplay Summit has been held in early August, and various manga cosplayers over a dozen countries in the world play the action and parade in Osu.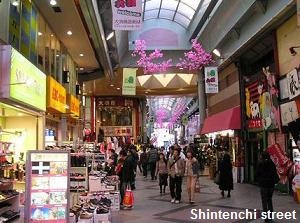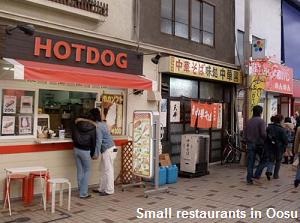 Basically, Osu has been the town with temples and small shops.
So there are few big buildings, abd about 450 small shops in this district.
Osu has a lot of traditional local foods shops, sweets shops, cafes, restaurants of Nagoya cuisine, foreign restaurants, old clothes shops, and many other various shops and facilities.
It is said that Osu is the town mixed with Akihabara, Asakusa, and Harajuku in Tokyo.
In fact, we can find many young people, old people and foreigners in this district.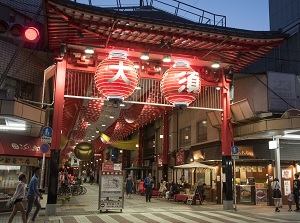 Entrance of Higashi-Niomon Street
Photo by Aichi Prefectural Tourism Association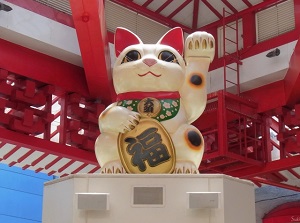 Maneki-neko in Osu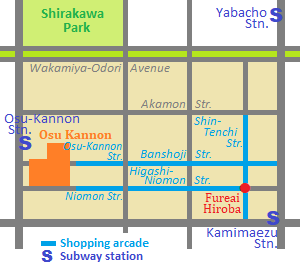 Very wide Wakamiya-Odori avenue runs from east to west.
Sakae district is to the north, and Osu district is just to the south.
In Osu district, a few main streets run north-south and east-west, and many alleys run between them.
Banshoji Street (万松寺通) runs through the center of the district from east to west.
And Higashi-Niomon Street (東仁王門通) runs to the south.
These are covered by arcades and we can walk easily in rainy day.
The main entrance of there street is on the eastern side of the district.
On Nigashi-Niomon Street, there is a spot Fureai-Hiroba (Fureai Square) and a big monument of Maneki-neko (welcoming cat) is set up.
Akamon Street (赤門通) runs to the north but it isn't covered by arcade.
How to get here
The nearest stations of subway are Osu-Kannon (●T08 Tsurumai Line), Kamimaezu (●M03 Meijo Line, ●T09 Tsurumai Line).
Hotels in Nagoya
Other Tourist Attractions in Nagoya