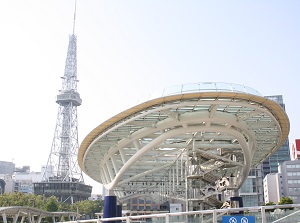 Oasis 21
Photo by Nagoya Convention & Visitors Bureau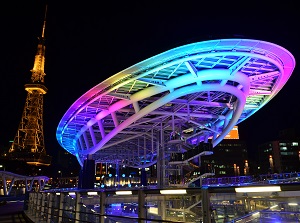 Oasis 21 in the evening
Photo by Nagoya Convention & Visitors Bureau
Oasis 21 is a complex facility of park, bus terminal and some shops, cafes and restaurants.
It is in Sakae (栄) district just in the center of Nagoya.
It is located about 2.3 km east of Nagoya station and about 1.5 km south of Nagoya Castle.
The area is about 170 meters from north to south and about 100 meters from east to west.
There is a park with very gentle slope on the ground level.
In the center of the park, there is wide underground open ceiling square.
Over the square, huge oval Spaceship-Aqua is set up.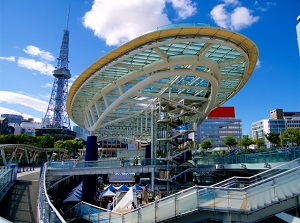 Oasis 21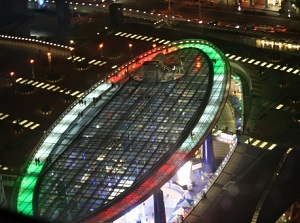 Oasis 21 at night
It is like a roof of square, but the main part is made of glass and water flows on the surface.
So the square is illuminated by natural and soft light from the sky.
There is a path on Spaceship-Aqua and we can walk freely.
It is lit up in the night, the scenery has been very popular recently.
There are some shops, restaurants and cafes around the underground square.
In the square, various events are often held.
And the square is connected with underground mall of Sakae, subway station and bus terminal.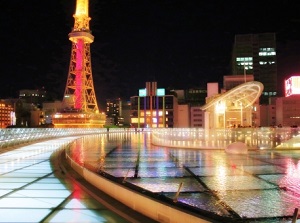 Path on Spaceship-Aqua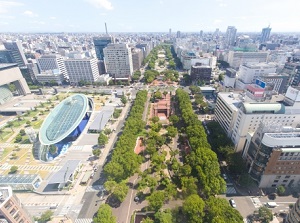 Hisaya Odori and Oasis 21
Along the west side of Oasis 21, Hisaya Ôdôri street (久屋大通) runs from north to south.
The width is about 100 meters and the length is about 2 km.
The roads run on the both side, and the center part is a long park.
There is Nagoya TV Tower in the center of the park, and is near Oasis 21.
There are many department stores, shops, cafes, restaurants around this area, and a big shopping district in Nagoya is formed.
How to get here
By sightseeing route bus "Me-guru", about 50 minutes from Nagoya station.
Or, the nearest station of subway is Sakae (●H10 Higashiyama Line, ●M05 Meijo Line).
Hotels around Sakae district
Other Tourist Attractions in Nagoya