Nagoya TV Tower [
名古屋テレビ塔

]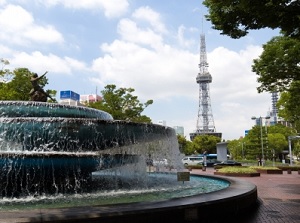 Nagoya TV Tower from Hisaya Odori Park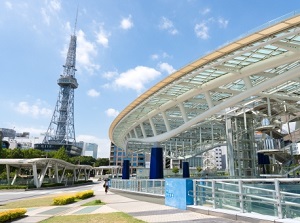 Nagoya TV Tower from Oasis 21
Nagoya TV Tower is a tower transmitting televison broadcasts.
The tower was given a new name, Chubu Electric MIRAI TOWER, in 2021.
("Chubu Electric" is a Japanese electric power company and "MIRAI" means "future".)
The tower stands in Hisaya-Odori Park in Sakae area, and is near Oasis 21.
It is located just to the north of the center of Sakae district.
This tower was completed in 1954.
The shape of the tower is similar to Tokyo Tower in Tokyo.
But Nagoya TV Tower is the first broadcasting tower in Japan, and it was completed 4 years earlier than Tokyo Tower.
Nagoya was in the midst of reconstruction of the city which was destroyed by US air raids (1944-45) in the World War II.
So it was built as a symbol of reconstruction.
The television broadcast in Japan shifted from analog broadcast to digital broadcast in 2011, so this tower ended its role as broadcasting tower.
After that, the tower has been preserved as a symbol of the town.
From 2019 to 2020, it was getting construction for anti-earthquake reinforcement.
And the whole tower was renewel and a unique high-class hotel was set up in the observatory floors.
The height of the tower is 180 meters.
At the level of 30 meters, there are the hotel, cafe, restaurant and shops.
And, there is the observatory at a height of 100 meters.
We can go up in an elevator, and enjoy the view of Nagoya city and distant mountains.
How to get here
By sightseeing route bus "Me-guru", about 50 minutes from Nagoya station.
Or, the nearest stations of subway are Sakae (●H10 Higashiyama Line, ●M05 Meijo Line), Hisaya-Odori (●M06 Meijo Line, ●S05 Sakuradori Line).
Hotels in Nagoya
Other Tourist Attractions in Nagoya