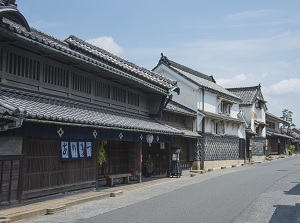 Arimatsu district
Photo by Nagoya Convention & Visitors Bureau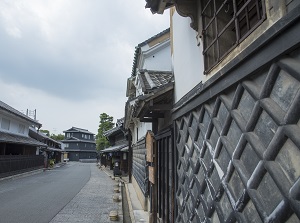 Old buildings in Arimatsu
Photo by Nagoya Convention & Visitors Bureau
Arimatsu is a district at the southern edge of Nagoya city, and is located about 15 km south-southeast of Nagoya station.
In the early 17th century, Edo government set an important road between Edo (current Tokyo) and Kyoto.
It was Tokaido about 500 km long, and 53 main stations with some inns for the travellers were set up.
The station in Nagoya was near Atsuta Shrine, and the stations before Nagoya was Narumi and Chiryu.
The distance between Narumi and Chiryu was about 12 km, but the route passed through a forest.
So robbers aiming at travellers often appeared in the section.
As a countermeasure, an additional station was set up between Chiryu and Narumi in 1608.
It was Arimatsu station.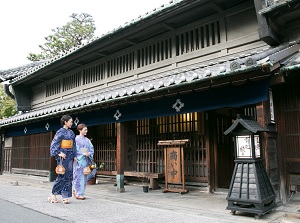 Shop of Arimatsu Shibori
Photo by Aichi Prefectural Tourism Association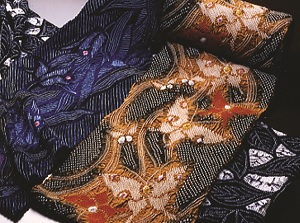 Arimatsu Shibori
Photo by Aichi Prefectural Tourism Association
Because it was close to Narumi (about 3 km), the size of the district was small and the station was in an economically tough situation.
So the people in the station started tie-dyeing of cotton cloth as an additional work.
The products became popular with the travellers, and it has been called Arimatsu Shibori (有松絞り).
So Arimatsu station had developed.
After that, the area of the work extended to Narumi, and now it is formally called Arimatsu-Narumi Shibori (有松・鳴海絞り).
The district is between Meitetsu Railway and National Route 1, and the old Tokaido runs through the district.
A length of the old town is about 500 meters.
Arimatsu district was not destroyed by US air raids in 1945.
So old houses and warehouses remain along old Tokaido street.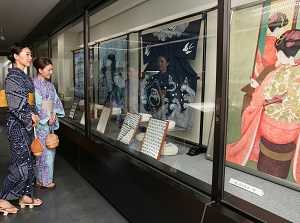 Tie-dyeing Museum in Arimatsu
Photo by Aichi Prefectural Tourism Association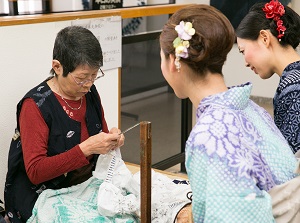 Demonstration of tie-dyeing in the museum
Photo by Aichi Prefectural Tourism Association
There are many shops of Arimatsu-Narumi Shibori and restaurants in old houses.
And there is Tie-dyeing Museum (有松・鳴海絞会館) in the center of the district.
How to get here
By express or local train of Meitetsu Railway, about 20 to 30 minutes from Meitetsu-Nagoya to Arimatsu.
Hotels in Nagoya
Other Tourist Attractions in Nagoya