Tokugawa Art Museum [
徳川美術館

]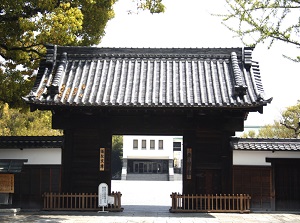 Kuromon gate before Tokugawa Art Museum
Photo by Nagoya Convention & Visitors Bureau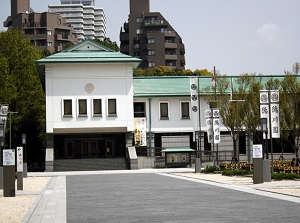 Tokugawa Art Museum
Photo by Nagoya Convention & Visitors Bureau
Tokugawa Art Museum is a museum displaying the artifacts and art objects which Tokugawa Family (the Shogun family in Edo Period) in Nagoya had owned.
It is in Tokugawaen Garden located about 3 km east of Nagoya Castle.
This museum was founded in 1935.
And it houses 9 national treasures and many national important cultural properties.
The works are Japanese swords, Japanese armors, Tokugawa Ieyasu's belongings, gorgeous kimonos, tea utensils, calligraphic works, paintings, etc.
(It's prohibited to take photos in the museum.)
And the tea ceremony room and Noh stage which were in original Nagoya Castle has been restored in the museum.
The most famous article is Genji Monogatari Emaki (源氏物語絵巻, Picture scrolls of the Tale of Genji). (National treasure)
"The Tale of Genji" is the Japan's oldest dynastic novel created in the end of the 10th century by Murasaki Shikibu, a woman novelist and poetess.
The picture scrolls have the paintings of various scenes in the novel, and it is said that they were created around the 12th to the 13th centuries.
It is thought that all of 54 chapters in The Tale of Genji were created, but Tokugawa Art Museum has the 15 chapters and Gotoh Museum in Tokyo has the 4 chapters.
The real works are exhibited only once or twice a year.
So the replicas are usually displayed.
It is closed on Monday and from the middle of December to early January.
Tokugawaen (
徳川園

)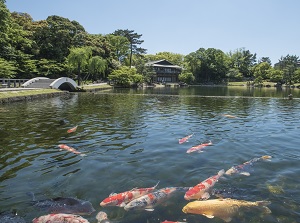 Pond in Tokugawaen
Photo by Nagoya Convention & Visitors Bureau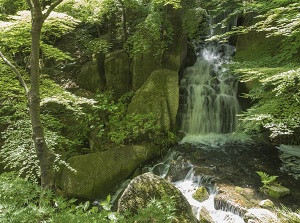 Waterfall in Tokugawaen
Photo by Nagoya Convention & Visitors Bureau
Tokugawaen is a Japanese garden rebuilt in 2005.
The site is about 250 meters from north to south and about 200 meters from east to west, and there is Tokugawa Art Museum in the south half part of the site.
Originally, this site had the residence after retirement of Tokugawa Mitsutomo (1625-1700), the second lord of Nagoya Castle.
The residence was built in 1695.
It was destroyed by the air raid in World War II (1945), and had been used as a park after the war.
Then, in 2005, the traditional Japanese garden was constructed.
The half part has a big pond and a stream from a waterfall flows into the pond.
The scenery around the stream is similar to a gorge in a mountain.
And some walking trails are set up in the garden.
There is a peony garden at a corner of the garden.
The main gate, a few buildings and the wooden walls surrounding the garden are designated as registered tangible cultural properties.
How to get here
By sightseeing route bus "Me-guru", about 36 minutes from Nagoya station, about 14 minutes from Nagoya Castle.
Or, the nearest station of subway is Ôzone (●M12 Meijo Line).
Or, by local train of JR Chuo Line, about 13 minutes from Nagoya station.
Then, about 1 km walk from Ozone station.
Hotels in Nagoya
Other Tourist Attractions in Nagoya