Toyota Commemorative Museum of Industry and Technology [
トヨタ産業技術記念館

]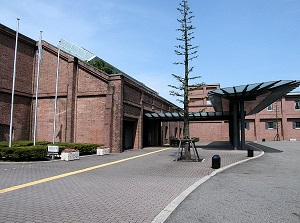 Toyota Commemorative Museum
of Industry & Technology
Photo by Railstation.net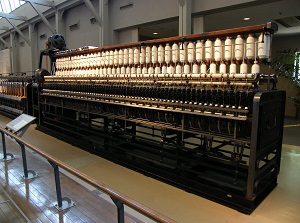 Old automatic loom
Photo by Railstation.net
Toyota Commemorative Museum of Industry and Technology ("Toyota Sangyo Gijutsu Kinenkan" in Japanese) is a museum located about 1.4 km north-northwest of Nagoya staion.
Originally, there was a factory of automatic loom by Toyoda Sakichi (1867-1930), the founder of Toyota Motors group.
He invented automatic loom in 1890, and founded the company in 1902.
And this factory was built in 1911.
By the way, manufacture of cars was started as a division in this company in 1933, and that became the worldwide "Toyota Motor Corporation".
This factory was changed to the museum as a industrial legacy, and it was opened in 1994.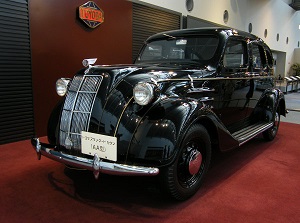 Toyota car in 1936
Photo by Railstation.net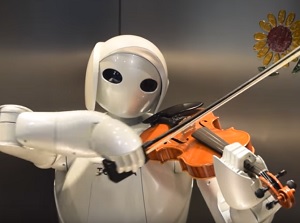 Humanoid robot playing violin
The site is about 150 meters from north to south and about 200 meters from east to west.
There are a few factory buildings made of red bricks.
Main parts are the area of machinery in spinning and weaving and the automobile.
Many manufacturing machines used in the company's history are displayed.
And we can see the historic Toyota cars.
The demonstration moving the machines is performed several times a day.
And we can see a humanoid robot playing violin.
Basically, it is closed on Monday.
How to get here
By sightseeing route bus "Me-guru", about 8 minutes.
Or, by Meitetsu railway, about 2 minutes from Meitetsu-Nagoya to Sako (next station) and about 3 minutes walk from the station.
When walking from Nagoya station, About 25 minutes.
Hotels in Nagoya
Other Tourist Attractions in Nagoya