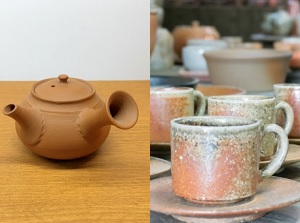 Tokoname-yaki (Tokoname ware)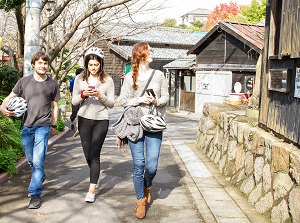 Yakimono Sanpomichi
Photo by Aichi Prefectural Tourism Association
Tokoname is a city located about 30 km south of Nagoya city.
It is on the west coast of Chita Peninsula, and faces Ise Bay.
There is Chubu Centrair International Airport on the artificial island just off the coast.
It is about 4 km from the center of Tokoname city.
Tokoname has produced much clay, so the potteries have made in this city since around the 12th to 13th centuries.
It is said that several thousand kilns were in this area at the time.
Seto city located about 45 km northeast of Tokoname is also a large producer of pottery in Aichi Prefecture.
But the clay of Tokoname contains iron, so Tokoname wares have reddish color.
Most of them have been practical goods, and the works are teapot, vase, crock and so on.
Since the late 19th century, earthenware pipes and tiles for civil engineering and archtecture have been produced.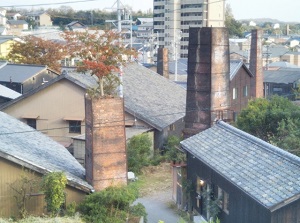 Old town of Tokoname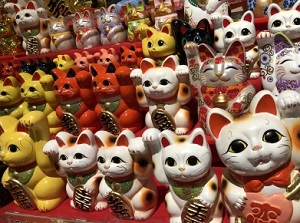 Manekineko shop in Tokoname
Tokoname is the top producer of Japanese teapots in Japan.
Additionally, it is also the top producer of Maneki-neko (Beckoning cat).
Maneki-neko is an ornament of beckoning cat and is popular as a lucky charm for a prosperous trade.
Recently, it has been popular with foreign tourists.
It is said that the origin was in Gotokuji temple in Tokyo.
And Seto city is also a big producer.
Toujiki-kaikan (陶磁器会館, Ceramic Hall) located about 400 meters east of Tokoname station has the map for tourists.
And the recommended courses to walk are set up, and the start point is the hall.
Along the courses, you can enjoy the ceramic town.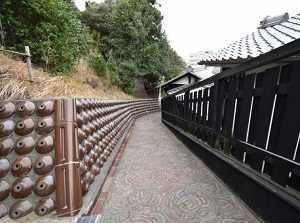 Yakimono Sanpomichi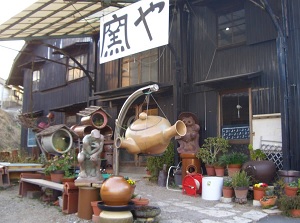 A shop in Yakimono Sanpomichi
The area with the walking routes is about 600 meters from north to the south and about 300 meters from east to west, and is located to the south of Toujiki-kaikan.
(The area is called Yakimono Sanpomichi.)
This area is on a gentle hill and there are many narrow streets.
Old kilns, chimneys, small factories are dotted and cars don't come.
Recently, galleries and cafes are opened in old buildings.
We can feel the atmosphere of old pottery town.
Manekineko Street (
招き猫通り

)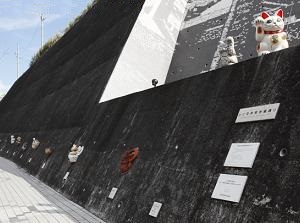 Manekineko Street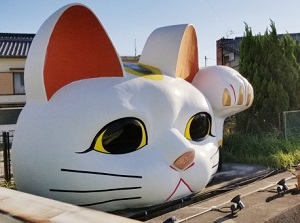 Tokonyan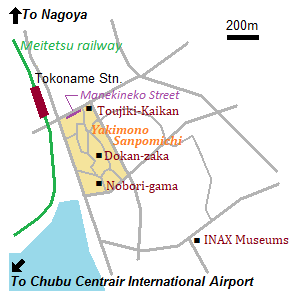 Manekineko Street is the street between Tokoname station and Toujiki-kaikan.
Many Maneki-neko are pasted on the wall along the street for about 200 meters.
There are 39 ceramic Manekineko and 11 cat potteries looking real.
In addition, there is a large Maneki-neko called Tokonyan on the wall.
The width is 6.3 meters and the height is 3.2 meters.
It is a symbol of Tokoname.
Dokan-zaka (
土管坂

)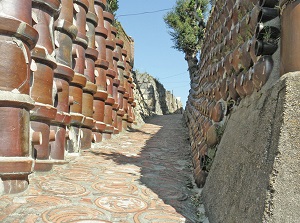 Dokan-zaka
Photo by Aichi Prefectural Tourism Association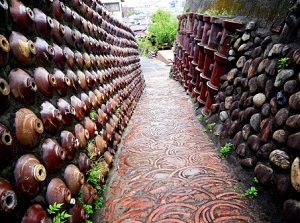 Dokan-zaka
Dokan-zaka is a narrow street on a slope.
It is in the center of Yakimono Sanpomichi.
Many earthenware pipes are used in the wall along the street and the scrap parts of pottery are embedded in the road.
Nobori-gama (
登窯

)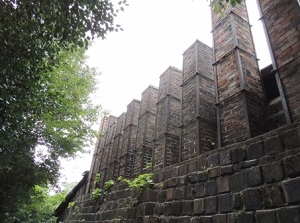 Nobori-gama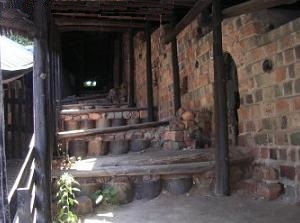 Inside of Nobori-gama
Nobori-gama means "climbing kiln".
It is in the southern part of Yakimono Sanpomichi.
Climbing kiln is a long kiln on a slope, and a lot of potteries are made at once.
This is one of the largest climbing kilns used until 1974.
We can tour the inside of the kiln.
INAX Museums
INAX Museums is a complex of five museums about pottery.
It is often called "INAX Live Museums".
It is located about 1.7 km southeast of Tokoname station.
The museums are managed by LIXIL Corporation, and INAX was a big tile and lavatory manufacturer in Tokoname absorbed into LIXIL.
The main museums of them are Kiln Plaza and Tile Museum.
Kiln Plaza is a former kiln built in 1921 and has a tall chimney and old kiln.
The inside is opened to the public.
In Tile Museums, thousands of tiles in the world are exhibited.
How to get here
By express of Meitetsu railway, about 33 to 37 minutes from Meitetsu-Nagoya, about 5 minutes from Chubu Airport.
Hotels in Tokoname
Other Tourist Attractions in Aichi Prefecture