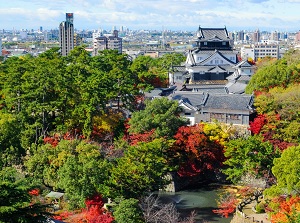 Okazaki Castle
Photo by Okazaki City Tourist Association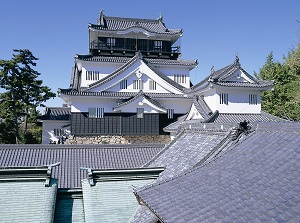 Okazaki Castle
Photo by Okazaki City Tourist Association
Okazaki Castle is a castle in the center of Okazaki city.
Okazaki city is located about 35 km southeast of Nagoya.
The castle was built in 1452.
Tokugawa Ieyasu, the founder of Edo government and the first Shogun, was born in this castle in 1542.
When he was 6 years old, he was moved to Nagoya as a politically-motivated hostage.
In 1560, he returned to this castle.
After that, he had been a lord of this castle for 10 years.
Long period of war was finished by Ieyasu, then he started steady Edo Period (1603-1868).
In 1617, because the Shogun had been born in this castle, new castle tower was built.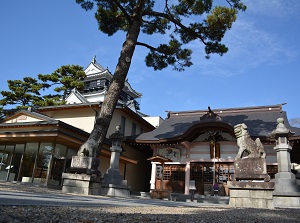 Okazaki Castle & Tatsuki Shrine
Photo by Okazaki City Tourist Association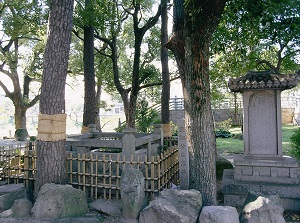 Well of the first bath of Ieyasu
Photo by Okazaki City Tourist Association
After the end of feudal Edo Period, this castle was demolished in 1873.
In 1959, the castle tower was rebuilt as a historic building, and the site became Okazaki Park.
The castle tower is 3-layered 5 storied and the inside is a museum.
The highest floor hasan observatory room.
Next to the castle tower, there is Tatsuki Shrine (龍城神社).
It was built after Tokugawa Ieyasu died, and the original name was "Toshogu" like Nikko and Kunozan.
And there is a well of which the water was used for the first bath of Ieyasu after he was born.
Hatcho Miso (
八丁味噌

)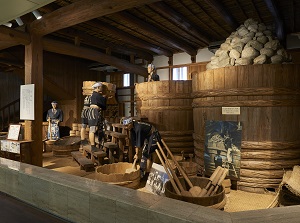 Museum of Miso manufacturing in Kakukyu
Photo by Okazaki City Tourist Association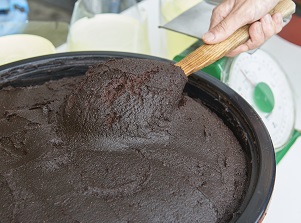 Hatcho Miso in Maruya
Photo by Okazaki City Tourist Association
Hatcho Miso is "miso" made in Okazaki.
Miso is a fermented food made from soybeans and salt, and is essential to Japanese cooking.
"Hatcho" means a length of "8-cho" ("Cho" is a former Japanese unit of length), and the length is about 870 meters.
Hatcho Miso has been produced about 8-cho west of Okazaki castle since the 17th century.
The color of the miso is dark brown and the taste is very thick.
Common miso is matured within a year, but Hatcho miso is matured for 3 years.
The cuisine in the western Aichi Prefecture including Nagoya often use this Hatcho Miso.
There are two traditional manufacturers.
They are Kakukyu and Maruya.
You can take a tour of both factories.
Of course, you can sample the miso.
Geographical indications in Japan have "Hatcho Miso".
Unfortunately, Ministry of Agriculture, Forestry and Fisheries in Japan ignored the opinions about the definition of Hatcho Miso from above two traditional manufacturers and designated the brand of "Hatcho Miso".
So these manufacturers can't sell the miso as Hatcho Miso in the world because they can't accept that so they are out of the definition.
I think that this is unreasonable.
But only Kakukyu and Maruya are the real Hatcho Miso makers.
How to get here
By limited express of Meitetsu railway, about 33 minutes from Meitetsu-Nagoya to Higashi-Okazaki.
Then walk for about 15 minutes.
Hotels in Okazaki
Other Tourist Attractions in Aichi Prefecture